Synchronoss buys NewBay from RIM for $55.5 million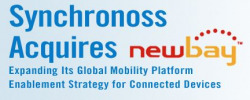 Synchronoss Technologies has acquired Research in Motion's NewBay cloud mobile content service. The deal was sealed for the sum total of $55.5 million in cash, and was closed just a few days ago. By nabbing NewBay, Synchronoss hopes to dominate the world of cloud mobile content services while increasing its international presence.
Specifically, Synchronoss hopes to give itself a boost in the international market via NewBay. Although NewBay has offices in Seattle, it is based out of Ireland. By acquiring the service, Synchronoss has gained access to NewBay's myriad of Europe-based customers, such as Swisscom and Vodafone. These are on top of its already existing US customer base, which includes Verizon, AT&T, and T-Mobile, among others.
Synchronoss's Chief Executive Officer Stephen G. Waldis offered this statement. "By adding NewBay's technology assets and millions of subscribers, this transaction further establishes Synchronoss as the clear leader in providing cloud based mobile content services for mobile operators around the world. By combining our strengths, Synchronoss will deliver the most comprehensive, scalable and secure cloud platform, and we will significantly expand our early market share leadership position."
The service works by allowing customers to store, access, and share content with mobile devices, such as tablets and smartphones. The addition of NewBay will give Synchronoss access to NewBay's various offerings, including its copyright, antivirus, and protection from illicit content capabilities. Synchronoss plans to provide expanded financial details of its NewBay acquisition during its 2012 Q4 financial conference call.