Super Talent Luxio USB Drives Available This Week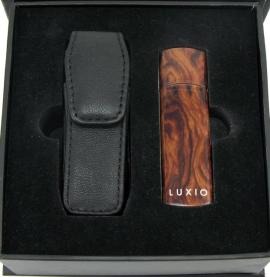 For those looking for a bit more USB storage than the standard drive offers, Super Talent Technology has announced their new Luxio line of USB drives that can provide you with a maximum of 64GB of extra space.
The Luxio drives are pretty stylish on top of their large capacity for a small package benefits. Measuring in at .8-inch by 3-inches by .4-inch, the Luxio drives are encased in UV-coated ABS/PC and feature zinc trim that's chrome-plated. You also have several color options including wood grain, black and silver.
The Luxio line up features AES-256 hardware encryption and makes for security of your information. Plus, the USB drives come in a gift box you can keep with a black leather carrying case, to boot. Fancy! The Luxio will be available this week in 16GB, 32GB and 64GB sizes, the latter of which is expected to cost $149.
[via Crave at CNET]