Top Steering Wheel Locks
The Club 1000
Pros
Chromoly steel construction
Self-locking mechanism
Bright color is a visual deterrent
$1,800 insurance deductible guarantee
Cons
Can be tough to use in sub-freezing temps
Mixed reviews
Winner International's The Club 1000 features a chromoly steel construction, an easy-to-use self-locking mechanism and a red paint job that makes it easy to see from outside your vehicle, providing a stronger visual deterrent. Its standout feature is Winner International's guarantee for up to $1,800 against your comprehensive insurance deductible.
The downsides are that Winner International's guarantee doesn't apply in New York, Hawaii, Texas or Wisconsin (due to insurance laws), and the product's Amazon reviews are mixed. It features a strong overall rating with 83% 5-star reviews as of publication, but many of the featured reviews are negative.
The Club 1000 costs $59.20 on Amazon at the time of publishing.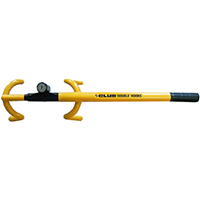 The Club 3000
Pros
Twin-hook design
Self-locking mechanism
Chromoly steel construction
$500 insurance deductible guarantee
Cons
Can be tough to use in sub-freezing temps
Smaller guarantee than The Club 1000
The Club 3000 enhances The Club 1000's design with large, twin hooks that are designed to be harder to defeat. Its attention-grabbing yellow color provides a visual deterrent for would-be thieves, and it features many of The Club 1000's benefits, like chromoly construction and a self-locking mechanism. Winner International also provides a $500 guarantee against your comprehensive insurance deductible if your vehicle is stolen with this product.
While The Club 3000 is cheaper at $25.05 on Amazon (as of publication), its guarantee is smaller than The Club 1000's, and it has many of the same issues, such as guarantee availability and review consistency.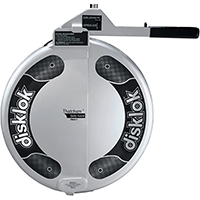 Disklok Security Device
Pros
Free-spinning design protects steering wheel and airbag
Locking barrels seizes when drilling or picking is detected
3-year mechanical warranty
Galvanized steel construction
Cons
Expensive
Limited fitment
With a free-spinning design and durable steel construction, the Disklok Security Device offers strong vehicle protection. While products like The Club are designed to lock to a steering wheel and move with it, the Disklok attaches around the steering wheel and spins on it.
While this product provides a high level of protection, its high price, $189.98 on Amazon at the time of publishing, and bulky design mean that it may not be the best for everyone.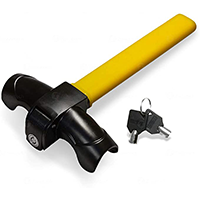 Zone Tech Steering Wheel Lock
Pros
Affordable
Vinyl coating reduces the chance of damage
Can be installed not to cover airbag
Compact size
Cons
Flimsy security arm
Can't use with steering wheel covers
The Zone Tech Steering Wheel Lock is a simple, affordable option. It has a simple design that clamps onto your steering wheel and braces against the top of the dashboard. The interior of the clamp is coated in vinyl to prevent damage to your steering wheel, and the design has the advantage of slipping on and off in only a few seconds.
However, reviews mention the security arm being flimsy, and the clamp won't fit properly if you use a steering wheel cover. That said, this lock is the cheapest of our picks at $19.99 on Amazon at the time of publishing.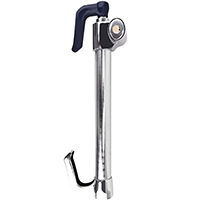 Tevlaphee Universal Steering Wheel Brake Lock
Pros
Adhesive strip protects steering wheel
Aluminum alloy and steel construction
Double-row atom cylinder
Multiple uses
Cons
Inconvenient installation
Not truly universal
The Tevlaphee Universal Steering Wheel Lock braces your steering wheel against the brake or clutch pedal. It has an aluminum alloy and steel construction, but it can be adjusted to fit a variety of vehicles.
However, reviews indicate that it has a cumbersome locking procedure, and locking the mechanism in the wrong orientation can prevent you from accessing the lock with the large set of included keys. Also, while it claims to be universal, this product does have limitations. If your vehicle has more than 85 centimeters between the pedals and the wheel, this product might not fit.
The Tevlaphee Universal Steering Wheel Brake Lock costs $43.99 on Amazon at the time of publishing.
How We Found the Best Steering Wheel Locks
When choosing steering wheel locks, we considered a variety of factors:
Value: While price is an important factor, the cheapest steering wheel locks often lack critical features. We prioritized steering wheel locks with prices that are in line with their capabilities compared to other locks on the market.
Materials: All of our picks use some combination of durable materials to resist sawing, prying, picking and Freon attacks.
Ease of use: We prioritized models with convenient designs because locks that are easier to use are more likely to be in place when needed.
Guarantee: Manufacturer guarantees give consumers confidence and can potentially save you money down the road. Steering wheel locks with strong guarantees were prioritized in our selection process.
Compare our Top Picks for Steering Wheel Locks
See the chart below to compare our picks.
| Brand name | Model | Star Rating* | Cost* |
| --- | --- | --- | --- |
| Winner International | The Club 1000 | 4.7 | $59.20 |
| Winner International | The Club 3000 | 4.6 | $25.05 |
| Disklok | Security Device | 4.5 | $189.98 |
| Zone Tech | Steering Wheel Lock | 4.1 | $19.99 |
| Tevlaphee | Universal Steering Wheel Brake Lock | 4.5 | $43.99 |
*On Amazon, as of publishing date.
What to Know About Buying Steering Wheel Locks Online
You may feel overwhelmed by the sheer number of steering wheel locks available, but here are a few key tips to make finding the right one quick and easy:
Pay attention to measurements and limitations. Although most locks are marketed as being universal, boats and larger trucks, vans or SUVs may have steering wheel setups that fall outside of standard product dimensions.
No steering wheel lock can completely prevent vehicle theft. As much as some manufacturers want you to believe that their product is the best, if someone really wants to steal your car, they'll probably do it. Steering wheel locks are about making it harder to steal a vehicle, deterring and delaying would-be thieves. Don't believe exaggerated claims or overpay for what may only be a marginal increase in protection.
Focus on ease of use. If a steering wheel lock is fiddly or fails to lock or unlock easily – there's a good chance it'll end up in the trunk instead of on your wheel. Prioritize options that are easy to use while also offering solid security.
Bottom Line: Which Steering Wheel Lock Should I Get?
While there may be hundreds of steering wheel locks on the market, they don't all offer the security you need without being excessively expensive or difficult to operate. First, check which locks will fit your vehicle. While many steering wheel locks claim to fit any vehicle, that's not always true.
Then, consider your options and choose one with good reviews that seems convenient to use. Remember, your steering wheel lock isn't of much use if you don't utilize it consistently.
Steering Wheel Lock FAQ
A steering wheel locking latches onto your steering wheel with a locking mechanism and prevents the wheel from making a full rotation unless it is removed.
Most steering wheel locks range in price from $15 up to around $200.
In general, there are three types of steering wheel locks:
Full coverage locks that spin around the wheel
Locks that brace the wheel against a pedal or dashboard
Locks that allow some movement but will ultimately brace against the door, console or driver's body upon rotation
Nobody needs a steering wheel lock, but they come with two main advantages:
A steering wheel lock is a visual deterrent that can keep car thieves from attempting to steal your vehicle.
A steering wheel lock can physically prevent a thief from stealing your vehicle by making the process more difficult.
For a relatively low cost, these products can drastically reduce the chances of your vehicle being stolen.