Sprint Network Vision Will Combine 3G/4G Base-Stations, Boost voice/data/PTT

Sprint has announced Network Vision, the carrier's ambitious plans to combine the multiple spectrum bands it uses into single, multimode base stations, and in the process driving 4G expansion, increasing call quality and overall coverage, and reducing roll-out cost. Meanwhile Network Vision will also support next-gen PTT with broadband capabilities, plus the integration of multimode chipsets into smartphones, tablets and other broadband devices, including machine-to-machine (M2M) capabilities.
The multimode base stations will be constructed and installed by Alcatel-Lucent, Ericsson and Samsung, and support the 800MHz and 1.9GHz spectrum used by Sprint's 3G voice/data services, together with the 2.5GHz spectrum used by WiMAX. Sprint expects to finalize the implementation schedule and begin the first stages of deployment in 2011, with Network Vision completion expected to take from three to five years.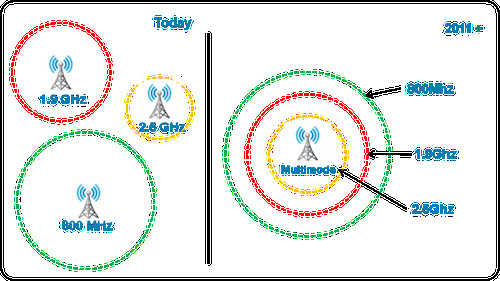 The change will also allow Sprint to juggle their current spectrum use, repurposing some of the 800MHz spectrum to increase coverage – particularly in-building – and provide stronger signal density and fewer dropped calls. The carrier expects to spend $4-5bn on Network Vision deployment during deployment, but estimates the total net financial benefit for a seven-year period to be between $10 billion and $11 billion.
Press Release:
Sprint Announces Network Vision – A Cutting-Edge Network Evolution Plan With Partners Alcatel-Lucent, Ericsson and Samsung

OVERLAND PARK, Kan. (BUSINESS WIRE), December 06, 2010 – Sprint (NYSE: S) today unveiled its Network Vision blueprint to deploy a cost-effective, innovative network plan to further enhance voice quality and data speeds for customers across the United States. Sprint's Network Vision is expected to consolidate multiple network technologies into one, seamless network.

Sprint has awarded contracts to Alcatel-Lucent, Ericsson and Samsung to bring Network Vision to life by implementing multimode technology to enhance service – coverage, quality and speed – create network flexibility, reduce operating costs and improve environmental sustainability. The scope of the arrangement between Sprint and these best-in-class vendors includes purchases of hardware, software and services. The awarded suppliers will deploy state-of-the-art technology expected to bring Sprint customers an overall enhanced network experience and deliver financial value to Sprint.

"Improving the customer experience – business and consumer – is the motivating force behind these network improvements," said Dan Hesse, Sprint CEO. "We are very pleased with the results of our process which selected these three world-class partners. Each company realized the network proposal process was highly competitive, and each responded with innovative, cost-effective solutions.

"Network Vision builds on our legacy of wireless innovation and represents the next step in the evolution of our networks to best meet unprecedented growth in mobility services. We are well-positioned to take advantage of new technology, chipsets, devices and applications. Working with these three partners, we expect to deliver to our customers the most cutting-edge network capabilities available today and in the future."

Today, Sprint uses separate equipment to deploy services on 800MHz spectrum, 1.9GHz spectrum and, through its relationship with Clearwire, 2.5GHz spectrum. Under the terms of the new contracts, Alcatel-Lucent, Ericsson and Samsung will install new network equipment and software that brings together multiple spectrum bands, or airwaves, on a single, multimode base station. (See 'Current vs. New cell site' at the Sprint Network Vision Information Center.)

The base stations will allow for the flexibility to offer new technologies using any of the 800MHz, 1.9GHz or 2.5GHz bands, as well as other spectrum bands. Sprint and the three companies expect to finalize the implementation schedule and begin the first stages of deployment in 2011. Completion of Network Vision across the Sprint network is expected to take from three to five years.

The implementation of multimode technology throughout the Sprint network is designed to:

Enhance service – Improve quality and data speed; improve in-building coverage and coverage within the network footprint

Create network flexibility – Ensure the most effective expansion of 4G

Reduce operating costs by delivering capital efficiency, lease reductions, roaming savings and backhaul efficiencies

Improve environmental sustainability by reducing carbon footprint and energy consumption needs

In addition to implementing multimode base stations, the Sprint Network Vision plan encompasses next-generation push-to-talk (PTT) with broadband capabilities and the integration of multimode chipsets into smartphones, tablets and other broadband devices, including machine-to-machine (M2M) capabilities.

Through spectrum efficiencies associated with Network Vision, Sprint intends to repurpose some of its 800MHz spectrum for CDMA service, thereby enhancing coverage, particularly the in-building experience for customers. Augmenting its 1.9GHz footprint with 800MHz, Sprint expects its CDMA coverage density will increase throughout the country. More density generally equates to fewer dropped calls and a more seamless network experience for customers. According to a 2010 PCWorld 13-city, 3G drive test, Sprint had the most reliable network. The Network Vision plan expects to enhance that competitive position.

"This is a very bold move," said Berge Ayvazian, senior consultant, Heavy Reading. "Sprint was first with an all-digital wireless network; the first to upgrade to EVDO; and, more recently, the first to broadly offer 4G services. Sprint is once again first to deploy a common converged mobile network that will strengthen its 3G services; enhance its 4G technology options; and continue delivering the industry's leading push-to-talk offering."

Future of push-to-talk

During the nationwide implementation of Network Vision, PTT customers will continue to receive a superior customer experience on the iDEN network, currently performing at best-ever levels. As the Network Vision transformation unfolds, Sprint expects to launch the next-generation of PTT services in 2011 on the CDMA network, offering customers sub-second call setup time along with robust data capabilities.

Over time, a shift is likely to occur whereby customers demand more data-centric applications with PTT usage. According to recent industry research, U.S. wireless data traffic exceeds voice traffic for the first time in history. The industry's mobile data revenue is up 27 percent this year*. (See 'Wireless data growth trends' at the Sprint Network Vision Information Center.)

As the shifting to more broadband-centric PTT applications on the CDMA network occurs, it is expected that iDEN cell sites will be phased out. This phase out is expected to begin in 2013.

"We're seeing an increasing need from our push-to-talk customers for high-speed data capabilities, said Steve Elfman, president-Network Operations & Wholesale, Sprint. "Marrying the industry's only sub-second PTT call setup with broadband data directly supports our customers' needs and creates an unmatched offering in the market. Additionally, we fully expect a competitively priced lineup of rugged handsets and smartphones on the CDMA network."

Greater efficiency benefits environmental sustainability

Across the country, as Network Vision is implemented, the size and power required to operate cell sites used by Sprint is expected to be reduced. Where an entire site can be decommissioned, Sprint intends to reduce its carbon footprint and energy costs. This network transformation will further Sprint's lead in environmental sustainability and social responsibility. As Newsweek's #6 ranked U.S. company in its recent "Green" rankings, Sprint will continue to aggressively identify ways to protect the environment. (See more at the Sprint Sustainability Information Center.)

Financial benefit to Sprint

Sprint expects the Network Vision plan to bring financial benefit to the company, not only by reducing operating costs, but also by avoiding future expenses as wireless data traffic continues to grow. The total estimated incremental cost of the Network Vision program during the deployment period is between $4 billion and $5 billion. Sprint estimates the total net financial benefit for a seven-year period to be between $10 billion and $11 billion. Cost savings are expected to come from capital efficiencies, reducing energy costs, lowering roaming expenses, backhaul savings and the eventual reduction in total cell sites. As Network Vision gives Sprint a more efficient network, and wireless data demand continues to increase, the per-unit cost efficiencies of serving Sprint customers should improve.

Network Vision implementation

The nation's geography will be divided among Alcatel-Lucent, Ericsson and Samsung on a market-by-market basis. Several of the markets for each company:

Alcatel-Lucent: New York City, Philadelphia, Boston, Washington, D.C./Baltimore and Los Angeles

Ericsson: Atlanta, Miami, Houston, Kansas City and Dallas

Samsung: Chicago, Denver, Pittsburgh, San Francisco and Seattle

* Research support: "New Cisco Visual Networking Index Forecasts Global IP Traffic to Increase Fivefold by 2013" – June 9, 2009