Sousaphone Hero - New title from Activision fails attract gamers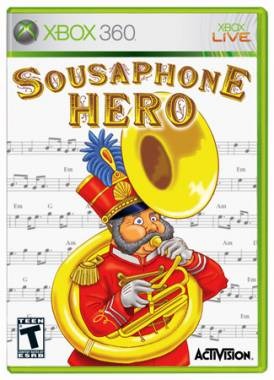 Guitar Hero has been great to Activision, so it's only natural that they'd want to try copying that success with spin off titles. We're not talking about an expansion pack like Guitar Hero 80s, we're talking full-on Sousaphone action baby.
The game features 24 inspiring marches which include The Liberty Bell, Stars and Stripes Forever and one of my personal favorites, Entry of the Gladiators. The enormous controller simulates the awesome feeling of playing a real Sousaphone with a working mouthpiece, three valve buttons and sensors for your feet to track your marching.
Unfortunately, the game has not sold nearly as well as the other "Hero" franchise, selling only a mere 52 copies in the first week. We're pretty sure that the poor sales are from the high $345 retail price, and possibly the 100lb controller. I think it had a lot of potential, who wouldn't want to march with 135 of their closest friends in the cooperative marching band mode?
Activision Reports Sluggish Sales For Sousaphone Hero [via theonion]