Sony Xplod in-car CD receivers with USB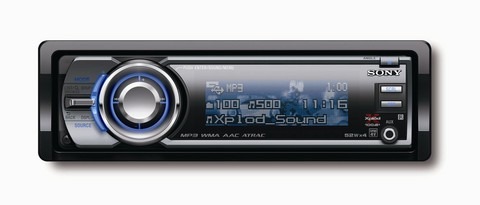 Sony has pulled the covers off two new Xplod in-car CD receivers, the CDX-GT920U and CDX-GT620U.  Support for CD and radio is a given, but they also have USB ports for playing music stored on memory sticks and Sony's Quick BrowZer technology to speed tracklist navigation.  Both have fold-down, removable face-plates, which in the GT920U's case is motorized.
Sony has fitted front mounted mini-jacks for plugging in other audio sources, and the GT920U is also compatible with iPods, HD and satellite radio (albeit with accessories required).  MP3, non-DRM AAC and non-DRM WMA files are supported, both on CD or memory stick.  Power output for both units rates at 52 watts x 4, with three additional pre-outs.
Personally they're a bit too garish for my tastes – I like my stereo to look integrated with the rest of the dash, rather than resembling a button-encrusted barnacle clinging to it – but Sony do have a reputation for solid sound and build quality.  Both include a credit-card style remote.  The Xplod CDX-GT620U is available now, priced at around $160.  Meanwhile the Xplod CDX-GT920U will be available in June, priced at around $250.