Sony VAIO Z Series: 13.3" Ultraportable With Light Peak Dock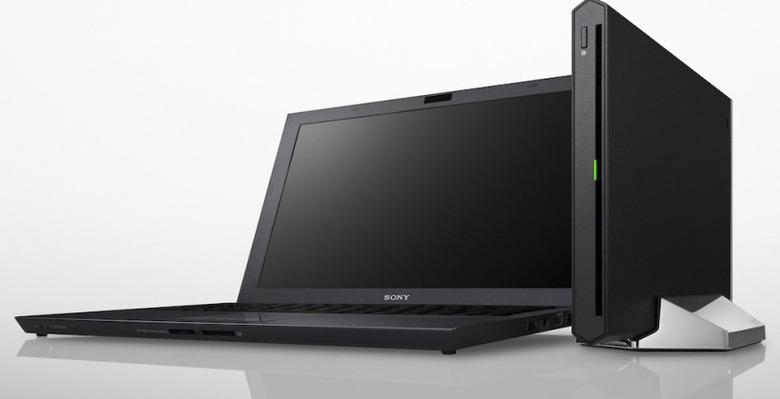 Sony has unveiled its latest performance ultraportable, the Sony VAIO Z Series, tipping the scales at under 1.2kg but still offering – thanks to a docking station that uses the same Intel Thunderbolt connection technology as Apple recently adopted - solid graphics performance with an external video card. The new 13.1-inch 1600 x 900 notebook runs up to a Core i7-2620M 2.7GHz processor paired with up to 8GB of DDR3 memory and up to a 256GB SSD, while the Sony Power Media Dock VGP-PRZ20C/VGP-PRZ20A packs an AMD Radeon HD 6650M graphics card with 1GB of dedicated memory, a choice of DVD or Blu-ray drives, and support for a further two simultaneous monitors.
That means, including the notebook's own display and its HDMI output, up to four screens can be active at any one time, turning the VAIO Z Series into a performance desktop workstation. Video on the ultraportable itself is courtesy of Intel's HD Graphics 3000, while connectivity includes WiFi a/b/g/n, Bluetooth 2.1+EDR, 3G WWAN, a USB 2.0 port and a hybrid docking station/USB 3.0 port, while there's also a 1.3-megapixel webcam, fingerprint sensor and stereo speakers.
Battery life is up to 7hrs from the standard internal pack, but add the sheet battery – which covers the entire base of the notebook – and you can extend that to up to 14hrs of runtime. A backlit keyboard is standard, while custom configurations (rather than the VPC-Z21V9E pre-config) can be specified with a Full HD 1920 x 1080 LCD display online.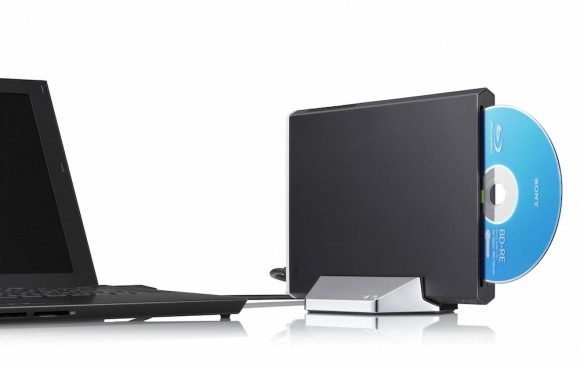 As for the Power Media Dock, as well as the AMD graphics card that also adds in a gigabit ethernet port, USB 2.0 port, USB 3.0 port and both HDMI and Mini D-Sub for displays. It can drive up to a 1920 x 1080 HDMI display or a 1920 x 1200 analog RGB panel. Unlike Apple's implementation of Thunderbolt, which uses a Mini DisplayPort, Sony has customized the technology and used a USB port instead; they're only referring to it as "Light Peak" based.
Both are already up for pre-order at SonyStyle UK, priced from £1,434 ($2,286) including tax for a Core i5 model with 4GB of RAM and a 128GB SSD. The Power Media Dock is from £400 ($638) as an accessory, going up to £525 if you want a Blu-ray burner. They'll ship toward the end of July 2011.