Sony VAIO TT ultraportable unboxed: Expensively exquisite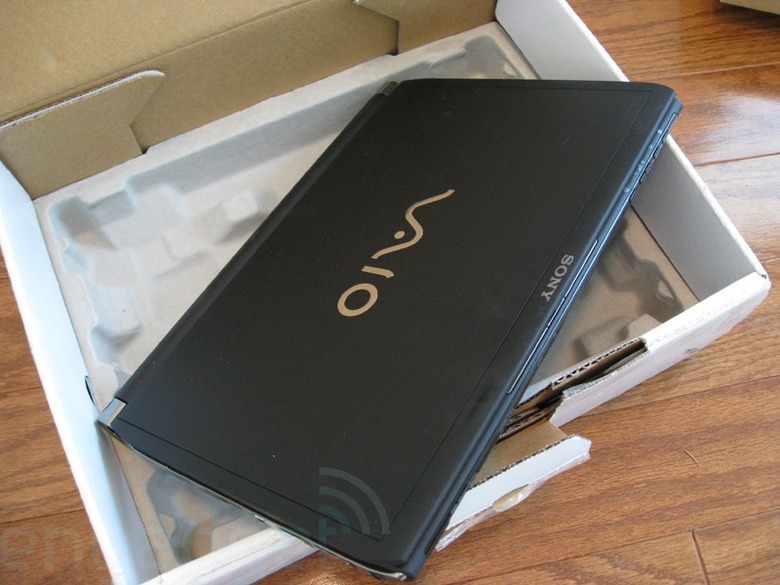 The market for a $4,449.99 ultraportable can't be too large, but that didn't stop Sony from giving in to their darkest miniaturization impulses with the VAIO TT.  Billed as the world's lightest Blu-ray laptop and set for release on October 15th, Engadget received an early delivery of the top-spec VGN-TT198U just begging for an unboxing.
The VGN-TT198U has dual 128GB SSDs, a Blu-ray burner, 11.1-inch LED-backlit display and runs a 1.4GHz Core 2 Duo SU9400 CPU with 4GB of DDR3 RAM.  Connectivity includes 802.11n WiFi, Bluetooth and HDMI output; you can also specify WWAN courtesy of either integrated EV-DO or HSPA. 
Engadget love the display, the build, the keyboard, the performance, the size and the super-light carbon-fiber chassis, but at the end of the day they can't justify the price.  Of course, there are far cheaper versions of the TT – opt out of Blu-ray and the SSD RAID array, for instance - so you pay your money and you make your choice.  I've been really very good this year, so I'm hoping Santa doesn't think it too presumptuous for me to put the TT on my Christmas list.