Sony VAIO TT Review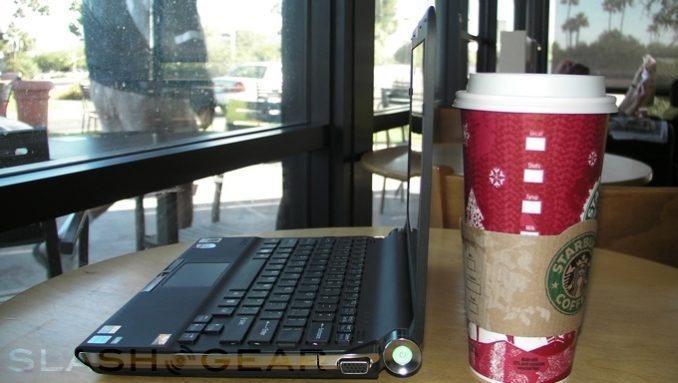 In a world of $250 netbooks and credit crunch, is there a place for a high-end ultraportable that, in its peak configuration, costs $4,345?  That's the question Sony – and plenty of others – are asking about the new Vaio TT, its latest luxury notebook.  A carbon fiber chassis, WWAN, Blu-ray and RAID options all draw upon the latest technology available, but have they over estimated the market?  SlashGear pulled on a pair of museum-standard gloves, buffed the test bench to a dull sheen, and prepared to find out.
Let's get one thing straight: not every VAIO TT costs almost $4.4k.  The model Sony sent us is the VGN-TT190UBX, complete with a 256GB SSD RAID-1 array, Blu-ray burner and the maximum 4GB of DDR3 RAM.  Other models in the range – which starts from $2,144.99 – have the same 11.1-inch widescreen XBRITE-DuraView 1366 x 768 display, the same twin USB 2.0 ports, gigabit ethernet, HDMI, iLink Firewire and VGA outputs, and the same 1.3-megapixel webcam.  Every TT has Bluetooth, WiFi a/b/g/n, a fingerprint scanner and ExpressCard slot, as well as Memory Stick PRO and SD readers.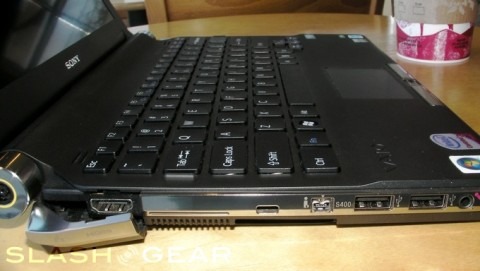 Processor options range from Intel's Ultra-Low Voltage (ULV) 1.20GHz Core 2 Duo SU9300 (800MHz FSB, 3MB L2 cache) through to the 1.40GHz SU9400 on our test unit; similarly, RAM ranges from 2GB to 4GB of DDR3.  Where you miss out is in storage: either a 120GB or 160GB 5,400rpm hard-drive, up through dual 64GB SSD, a single 128GB SSD, or twin 128GB SSDs for the maximum 256GB of solid-state capacity.  A DVD-RW drive is standard, with Blu-ray a $500 option, or on select models it can be replaced completely with a second storage option (HDD or SSD).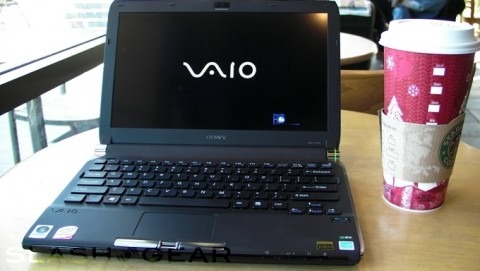 The TT weighs in at 2.8 pounds and measures 13.0 x 10.2 x 0.9 inches.  Physically, the design is superb, an evolution of the previous-gen VAIO TZ with that model's ultra-thin screen (with LED backlight) and circular hinge with pronounced power button, but adding more metal accents and rounded edges.  The keyboard uses the same spaced-out layout that Sony debuted (and Apple later adopted) and is, despite the limited space available, comfortable and responsive to type on.  Below it, on the slightly raised palmrest, the trackpad and broad mouse buttons flank the fingerprint scanner.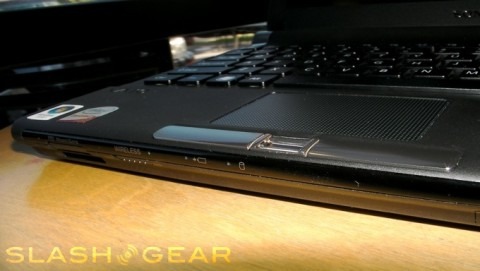 Sony has been criticized before for the amount of crapware they preload on new notebooks, but the TT partially escapes it.  There's certainly less third-party trial ware clamoring for attention, but the usual baffling array of Sony's own apps – including the Click to Disc Editor, MusicBox, Movie Story, Media plus streaming app and more – are present.  It's not enough, though, to distract from the glorious display.  Fine pixel resolution and a true 16:9 aspect ratio, together with consistent and bright LED backlighting, add up to a screen that bests many dedicate LCD TVs that we've seen.  It sadly falls short of 1080p high-definition resolution (that's catered for via the HDMI connection) but don't underestimate the TT as a mobile entertainment device.  Blu-ray discs look simply stunning, and in fact it's the TT's only average speakers that let it down; we'd recommend a decent set of headphones.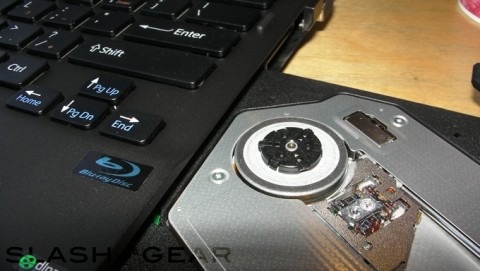 System performance is limited by the ULV processor and the integrated Intel GMA 4500MHD graphics.  Despite the Blu-ray burner and Sony's emphasis on high-def, the TT shouldn't be the first machine you reach for if there's heavy-duty media editing to be done.  Still, compared to other ULV ultraportables, such as the Toshiba Portege R500, the VAIO TT motors along nicely through the usual array of Office, internet and email tasks, managing all manner of multitasking including simultaneous video playback and VoIP conversations.  The drawback, really, is the OS: Vista Ultimate on our test model (Vista Business on cheaper versions, with optional XP downgrade), which simply can't keep up with the VAIO in terms of finesse.
This is one notebook we'd really love to see running Windows 7, and Microsoft's upcoming OS refresh can't come quickly enough.  We have a feeling that the more polished system management will do wonders for eking out the best of the TT.  Until then, we'll have to struggle with Vista, which lacks the instant user-friendliness of OS X on the MacBook Air or the new MacBook.  Happily the SSD RAID offers the performance kick needed to keep Vista moving along smoothly, though obviously lower models won't have that advantage.
What the ULV processor is aiming for, of course, is superlative battery life, and here thankfully is another tradition handed down from the VAIO TZ.  The TT might not quite manage its predecessor's runtime, but Sony claim up to 7.5hrs from the 6-cell 5,400mAh standard battery.  In our own tests we found the TT could manage almost four hours of video playback, or around 6 hours 15 minutes of Internet browsing over WiFi.
The VAIO TT really does offer road warriors that perfect mixture of performance, battery and portability.  As well as the Bluetooth and WiFi draft-n, Sony offer a Sprint EV-DO Rev.A WWAN option (for a $59.99 monthly fee); work while you travel and then, when you're at the hotel, plug the TT in to the TV and watch a movie rather than paying for the usual lousy selection.  Vista is a chore but, courtesy of the SSDs, it's at least manageable.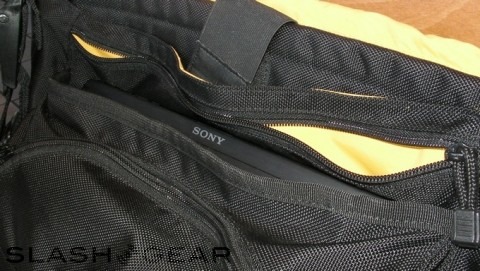 What might be less so is the price.  Most people would call the entry level TT expensive; the superlative-spec VGN-TT190UBX topples that over into astronomical.  Of course there'll always be a market for high-end notebooks like this, not least for those who want to boast that their sub-1-inch ultraportable has an SSD RAID setup and Blu-ray, but for most buyers the TT just wouldn't get a look-in.  We love it; certainly, we just wish we could afford it.