Sony to sell MicroVault USB drives with preloaded content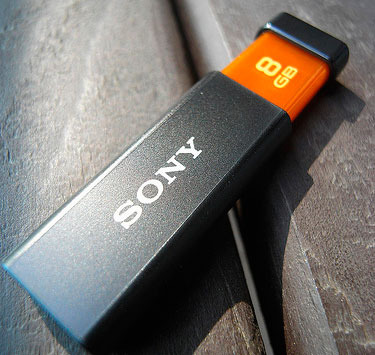 There isn't much you can do to push the USB drives that have slowly turned into a commodity. Giving it up free to promote other products or do what other storage makers have been doing for sometimes- repackage the drives with preloaded special edition movies or music contents. That's what Sony did with their Microvault USB flash drives. The company has unveiled number of movies title available in their MicroVault USB drives, introduced some of the top music and movie titles in entertainment history to consumers in a simple, one-click-to-play portable USB drive.
Microvault drives ranged from 1GB to 16GB storage capacity. Preloaded contents are available from a few popular choices such as Thriller: 25th Anniversary Edition, The Da Vinci Code and Men in Black. The special edition Thriller contains the complete re-release version of the original 1982 album, seven bonus tracks and four Billie jean videos; while the latter are just movies, nothing to brag about.
Though I am not too crazy about the USB preloaded content, the pricing sounds reasonable: The 4GB Da Vinci code and Men In Black USB drive will be selling at $29.99 while the 2GB Thriller will set you back $19,99.