Sony Japan to offer pink Sweet Limited Package PSP-3000 and other bundles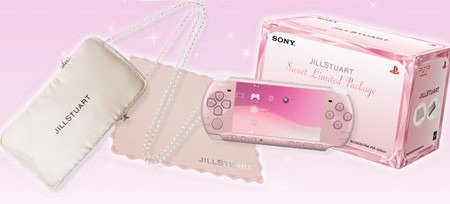 We are no strangers to limited edition PSP packs around these parts. We have seen pink limited edition PSPs before for the Japanese market going back to 2006. Sony is getting set to unveil a few new limited edition PSP-3000 bundles in Japan including one with designer Jill Stuart.
Jill Stuart is a clothing designer and Sony has teamed with her for a PSP-3000 bundle dubbed the Sweet Limited Edition Package. The kit will sell for 21,000 yen starting on March 4. Included in the bundle is a new blossom pink PSP-3000, a special pouch in a gold hue, and a cleaning cloth designed by Jill Stuart. The kit also includes a 4GB Memory Stick PRO Duo.
In addition to the Sweet Limited Package Japanese PSP-3000 fans will also be able to pick up special limited edition bundles with PSPs in blossom pink, piano black, or vibrant blue colors that include a carry pouch, cleaning cloth, and the 4GB memory card. These special bundles will sell for 19,800 yen.