Sony Closing Down CD Manufacturing Plant in New Jersey After 50 Years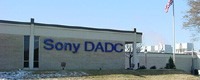 Sony will be closing down one of the company's largest CD manufacturing plants, located in Pitman, New Jersey, on March 31st, 2011. The company will be closing the doors for the final time after 50 years of being in business, where the plant originally manufactured vinyl records. When the plant closes, it's reported that almost 300 individuals will lose their job.
The closing of the plant is said to be attributed to the pick-up in digital music downloads, as well as influences in other economic regards. The plant itself is half-a-million square feet, and at full capacity was able to turn out over 18 million CDS every month. CD sales dropped 18 percent between 2008 and 2009, while vinyl record sales have actually climbed 33 percent in the same time frame. However, it's not enough in Sony's eyes to keep the huge plant active.
Sony will now move the CD production to another plant, which is located in Terre Haute, Indiana. This plant is currently being used to produce video DVDs.
[via NetworkWorld]