Sony's ZEGO Cell Platform with PS3 cell CPUs gets speced out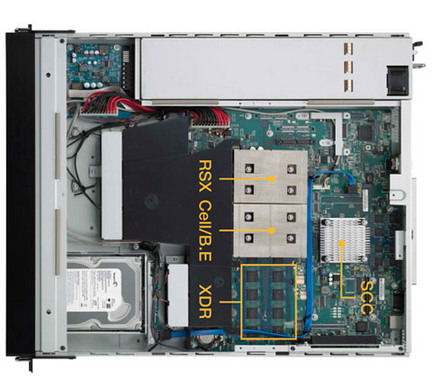 If anything were done right by the PS3 is its enormous Cell Broadband Engine and RSX graphics technologies capable of handling multi-core computing and rendering increasingly complex HD videos and graphics. The cell-powers are being used in IBM supercomputer to break Petaflop barrier, now the co-developer bundles the similar PS3 package; launches ZEGO Cell Platform that utilizes the same cell processor and RSX GPU processor, onto a 19-inch 1U rackmount.

Designed to provide hybrid multi-core processing for HD, 4K and much complex visual effects in the future, the Sony BCU-100 Cell Broadband Engine is capable of 230GFLOPS thanks to its multi-core 3.2Ghz CPU speed, 256MB of RSX video memory, 1GB of onboard XDR ECC system memory and optional PCI express SCC DDR2 memory expanded up to 8GB.
Like most server unit, it comes equipped with a 160Gb sata hdd, two ports of USB, 2 ports of network connectivity, one RS-232C serial port and a power efficiency 330W PSU. The manufacturer recommends Yellow Dog Enterprise Linux for Operating system. Mum's the word on pricing and availability.