Sonos Controller for Android released; Sonos v3.4 adds AirPlay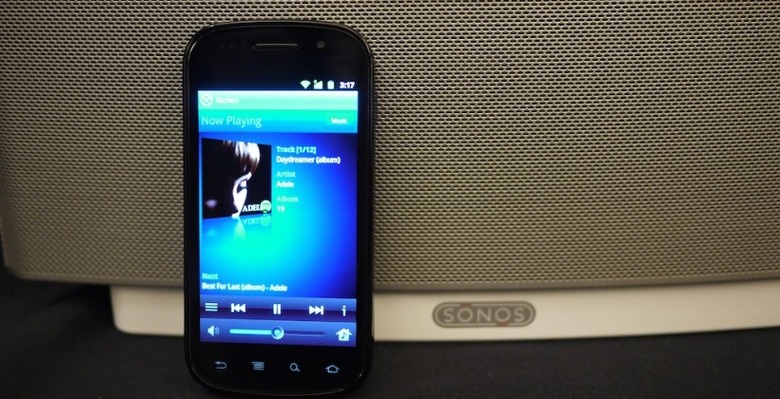 Sonos has released its Sonos Controller for Android app, allowing users of Android 2.1 or higher smartphones or tablets to remotely control their multi-room audio systems without paying for a separate remote. Meanwhile, the company has also added Apple AirPlay support in Sonos firmware v3.4, allowing an AirPort Express to be plugged into a Sonos device's aux-in input and stream from it around the home.
We played with the Sonos Controller for Android app back in February – you can see it in action in the video below – and found it to be even better than its iOS counterpart. Sonos missed its original release date, but the app will be in the Android Market today.
As for the AirPlay support in Sonos 3.4, that allows for music to be streamed from an iPod, iPhone or iPad, just as the system currently allows for iTunes access. It can be streamed to a single room or synchronized across all rooms.
[vms 2108eee6dd897f3bca8a]
Press Release:
Sonos Controller for Android Now available on Android Market

Sonos Gives Android Fans Amazing Sound, Unlimited Music and Incredible Wireless Control in Every Room of the Home

London, UK – April 19, 2011 – Sonos, the leading developer of wireless

multi-room music systems for the home, today announced that the Sonos

Controller for Android is now available for download as a free app on the

Android Market™. Sonos Controller for Android transforms most Android™ smartphones into a wireless music controller for the award-winning Sonos Multi-Room Music System. To see a video on how you can use an Android smartphone to control music all over the home with Sonos, please visit www.sonos.com/android.

"We're pleased to deliver a great new way for music lovers to tap into all the music on earth," said John MacFarlane, founder and CEO, Sonos, Inc. "Now Android owners can pull out their phones and bring music home with Sonos."

With the award-winning Sonos S5 in any room and an Android smartphone in hand, music fans can now enjoy an unmatched wireless music experience in the home. Access and play all the music on earth – from the Internet and your personal music library – throughout the home, wirelessly. Play the same song in every room of the house – perfectly synchronized. Or mix it up and play different songs in different rooms. Use the free Sonos Controller for Android to control the music in each room, all from the palm of your hand. Search for songs and stations by typing, or by speaking, thanks to the new Sonos music voice search feature. Also, turn the hard buttons on the Android smartphone into volume control. And because your Android phone is controlling the music – not the source of it – when a text comes in or you need to make a phone call, the music doesn't stop.

The Sonos Controller for Android works on any Android smartphone running Android 2.1 or later with a screen size of HVGA 320 x 480, WVGA 480 x 800 or WVGA 480 x 854. Sonos Controller for Android joins the family of Sonos Controllers which includes free apps for iPhone and iPad, a dedicated touchscreen controller, the Sonos Controller 200, and free software for your Mac or PC, which is included with every ZonePlayer. All controllers work together seamlessly.

In conjunction with today's Sonos Controller for Android availability, Sonos has released Sonos System Software v3.4 which features support for Apple AirPlay music sources, iOS multi-tasking and more. For more details, see additional press release or visit:

http://sonos.com/support/software_update.aspx
Press Release:
Now playing all over the home: Apple Airplay music sources on Sonos

Sonos offers the only true, multi-room Apple AirPlay experience with an Apple AirPort Express

London, UK – April 19, 2011 – Sonos, the leading developer of wireless

multi-room music systems for the home, today introduced Sonos System

Software 3.4, a free software update that adds more music and more

features to the Sonos music experience. Sonos 3.4 makes it easy to play

Apple AirPlay music sources all over the home, and adds support for Apple

iPad and Apple iPhone multitasking and Sonos Controller for Android.

"The cool AirPlay feature for music is sending a song from an iOS device to a speaker or receiver," said John MacFarlane, founder and CEO, Sonos, Inc. "Today Sonos improves the AirPlay experience with party mode so a music lover can send a song from his iPhone or iPad to all the rooms in a home with perfect synchronisation."

Apple AirPlay Music Sources on Sonos

Now you can stream songs from your iPhone, iPad or iPod touch all over

your home on Sonos. Connect an Apple Airport Express via line-in to any

Sonos ZonePlayer and enjoy the only true, multi-room Apple AirPlay

experience.

• Party Mode: Only on Sonos can you send a song from your iOS device

to multiple ZonePlayers throughout your home and enjoy that song in

every room, simultaneously

• Different songs in different rooms, Sonos-style: Since 2005, only on

Sonos can you play different music from your iTunes library in different

rooms of the home

For more information about how to play Apple AirPlay music sources on

Sonos, for recommended setup and more, please visit www.sonos.com/AirPlay.

Other Sonos 3.4 features include:

Faster wireless control on your iPhone and iPad with iOS multitasking

support. Find and play your music even faster with multitasking updates

available on the free Sonos Controller for iPhone and Sonos Controller for

iPad. Both are available for download from the iTunes App Store.

More control with support for Sonos Controller for Android. Transform your favourite Android smartphone into a full-fledged Sonos Controller with a free app you can download from Android Market today. Sonos Controller for Android features innovative music voice search so you find any artist, album or track by simply speaking into your phone. For more details, see additional press release or visit www.sonos.com/android

Full details of the Sonos 3.4 software release can be found here:

http://sonos.com/support/software_update.aspx