Softbank Sharp Aquos Fulltouch 931SH is impressive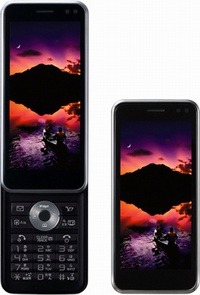 This cell phone is definitely worth talking about. The Softbank Sharp Aquos Fulltouch 931SH phone features a crystal clear screen, quality specs and a generally stylish appeal that many would flock to.
The screen is the biggest draw here, no question. Sporting a 1024 x 480 resolution, this 3.8-inch display is actually a touchscreen. Funnily enough, the resolution is similar to that which is provided on notebooks, not cell phones, so this is really a cut above.
It is also outfitted with a 5.2-megapixel camera, Bluetooth, a music player, 3G connectivity, RFID and a 1-Seg TV Tuner. The latter allows you to watch live TV right on your handset. Of course, this phone will most likely never be released outside of Japan. Such a bummer, but hey, at least we can gawk at the new Sharp Aquos Fulltouch in envy, right?