Smart's First Electric Car In The U.S.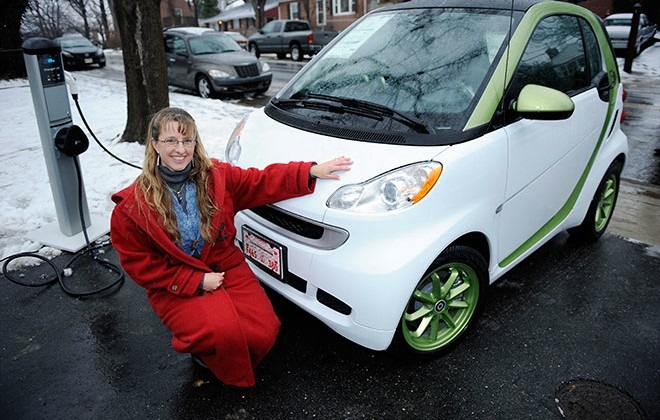 An electric car just made its American debut, but not in LA for some movie star proving their "green". Smart's first electric car, the Smart ForTwo, has landed in Silver Spring, Maryland. Yup, Maryland. Mindy Kimball, a Major in the Army, is the lucky recipient. Smart is leasing out a fleet of the cars to individuals and corporate/municipal fleets to refine the technology.
The Smart ForTwo houses a 30 kilowatt electric motor that produces 40 horsepower and a 16.5 kWh lithium-ion battery. A full charge takes eight hours and is claimed to get you 98 miles on the LA4 test cycle, but the EPA estimates it's closer to 63 miles in actual commuting.
"This is a groundbreaking day for Smart in the United States," Smart USA President Jill Lajdzik said. "We are extremely excited to add the Smart ForTwo electric drive to Smart product lineup, solidifying our position as a key player in transportation electrification."
Like the rest of Smart's arsenal of cars the Smart ForTwo is tiny and looks like it belongs on a golf course rather than a high way. But its lack of speed and size look to be well suited as an environmentally friendly option for urban commuting. The car is one of 250 EV's (electric vehicles) that Smart is bringing out this year; major roll-out and production is expected in 2012.