SlashGear's T-Mobile HotSpot @Home "Where's your HotSpot?" contest!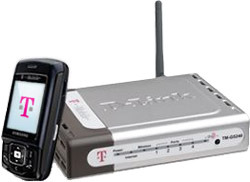 SlashGear has teamed up with T-Mobile to bring you SlashGear's T-Mobile HotSpot @Home Where's your HotSpot? contest.
There's only one prize for this contest, but it's well worth it. You'll get an entire T-Mobile @Home kit, along with one full year of service. This includes a new phone, a HotSpot @Home router and 1 year of service.
So what will you need to do? Head over to our contest forum and tell us about your favorite HotSpot away from home, and post a picture of you visiting your HotSpot. Your favorite SlashGear editors will be post pictures of themselves in their favorite HotSpots as well (sadly, we can't win). The contest will run until Friday July 20th at midnight CST. We will announce winners on the following Monday. Good Luck!
For more information on the T-Mobile HotSpot @Home service, check out our coverage here.
Update – For those wondering, here are the exact details on what you will be winning.A HotSpot-enabled phone (Nokia 6086 or Samsung t409), T-Mobile HotSpot @Home Wi-Fi router (D-Link or Linksys brands) and one year of free T-Mobile HotSpot @Home service that includes (per month) unlimited calls to your myFaves contacts, 2000 nationwide WHENEVER Minutes®, unlimited T-Mobile-to-T-Mobile domestic calling, 1500 messages sent, 1000 messages received, and access to t-zones.