SlashGear's NVIDIA TegraZone Anniversary Game Pack Giveaway!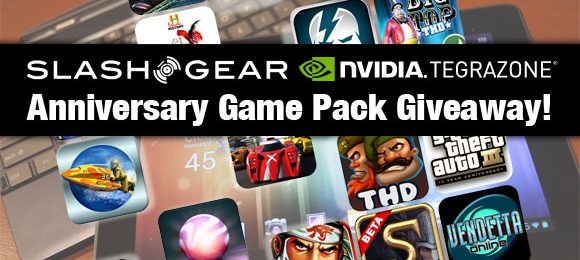 Over the next three weeks we're working with NVIDIA and ASUS to celebrate the first full year of the NVIDIA TegraZone with no less than three game packs that you can grab for yourself! Inside each of these game packs you'll find an ASUS Transformer Pad TF300, a TF300 keyboard dock, a Logitech game controller, and a Jawbone Jambox Speaker – all of this bringing you a setup that offers up "console quality gaming" on the go! Starting today and running through the 31st of May, you've got one chance to win each week for a total of three game packs right here on SlashGear – Transformer TF300 tablets galore!
UPDATE: We have our winners and are currently attempting to contact each of them. If you entered this particular giveaway and have a friend request or a message from Chris Burns, this means we are attempting to contact you ASAP! Once we have each of our winners confirmed to be eligible and in contact, we'll post their names here – stay tuned!
In addition to the three prize packs we've got, Android Community has a set of three packs as well, and NVIDIA also has seven prize packs to give away that consist of the same set of devices. To get a prize pack at NVIDIA, you've got to vote for your favorite NVIDIA TegraZone game, that being anything from Shadowgun with its fabulous third-person shooter action to Riptide, the king of jetski games made next-level excellent for the NVIDIA Tegra 3 quad-core processor with next-level water physics and fabulous tricks in mid-air.
First have a look at how you can win one of the SlashGear-hosted game packs here:
1. "Like" us on Facebook: at facebook.com/slashgear/ and leave a comment in this Facebook thread: http://tinyurl.com/crkhold telling us your favorite TegraZone game and why you love it so much – or if you don't own a Tegra-toting device as of yet, let us know what game you look forward to most!
2. Winners will be selected like so: we'll pick a set of our favorites and put them in a hat to pick a winner each week for a total of three!
And that's it! There's nothing more simple than a two-step giveaway. Next you can get another chance to get in on these packs through the TegraZone itself, NVIDIA providing the packs sent from them (the same sets of prizes) through their portal which leads to a voting interface where you'll be choosing your favorite game from amongst all the games they've got in the TegraZone today! Click on this link: [Player's Choice Awards] or scan the QR-code below with your smartphone – both will work!

And for those of you who haven't experienced the fury of the tablet you'll be winning here, have a look at our ASUS Transformer Pad TF300 full review! ASUS sums it up quite nicely: "Running latest Android 4.0 Ice Cream Sandwich, the ASUS Transformer Pad is a value packed tablet that with multi-color style, and productivity with expandability when connected to the mobile dock. With a 1.2MP front and 8MP rear auto-focus camera with large F/2.2 aperture and exclusive office software, staying connected and productive has never been easier."
Giveaway begins May 10th and ends May 31st, 12:01AM PST barring any complications finding the winners. Both winner will be announced once we've contacted and confirmed them here in the main news feed and at our official Facebook/Google+ pages.

Competition is open to residents of the US only, over the age of 18. One entry per person. Family members of NVIDIA, ASUS, and SlashGear/Android Community are not permitted to enter. Competition entries are only accepted via the specified SlashGear Facebook page; entries left in the comments section of this or any other post will not be recognized.

The winner will be contacted by an Android Community/SlashGear staff member upon being selected and will be expected to respond to that staff member; they will be expected to respond within 24 hours else their prize may be forfeit and another winner selected. Editors decision is final and no correspondence will be entered into. Winners agree that their name and details of their entry may be used for promotional purposes by, but not limited to Android Community, SlashGear, and NVIDIA.
Prize consists of a pack including one ASUS Transformer Pad TF300 tablet, one TF300 mobile keyboard dock, one Logitech game controller, and one Jawbone Jambox Speaker. There is no other alternative for prize winners unless this prize should become unavailable, in which case SlashGear reserves the right to substitute another prize of equal or greater value.
Giveaway provided by SlashGear/Android Community. Prizing provided by NVIDIA and ASUS. Any questions regarding this giveaway should be directed to giveaway[AT]slashgear.com.