SlashGear Review: Samsung Gleam SGH-U700 on Verizon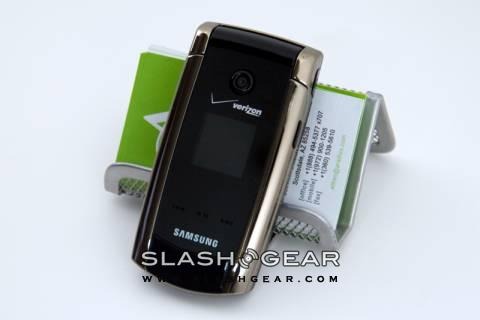 When you're making cellphones it can be tricky finding a unique selling point that pushes your new handset out in front of the crowd.  It's made doubly difficult when the phone is neither high-fashion nor smartphone; that's what's left Verizon championing their latest 3G clamshell, the Samsung SGH-U700 Gleam, not so much for its high-speed internet access nor its 2-megapixel camera, but for the attractively evolving interface.
Hyperbole aside, though, it's perhaps a cause for concern when your headline feature is wallpaper – in the Gleam's case, Samsung have been seriously over-egging the "living wallpaper" that changes as the day progresses.  Getting too distracted by it would be a shame, though, as behind the pretty pictures lurks a reasonably decent cellphone.
We're not talking about revolution here; at 3.9 x 1.9 x 0.55 inches and 3.35oz it's neither the lightest nor smallest handset, but the Gleam will get attention because of the EV-DO and 1xRTT high-speed internet access, full-featured Bluetooth and support for Verizon's V CAST music and video download services.  All that media and browsing takes place on a bright, impressively crisp 2.1-inch, 240 x 320 262k colour QVGA internal screen.  Contrast is rich and streaming TV really shows off how far Samsung's display technology has progressed.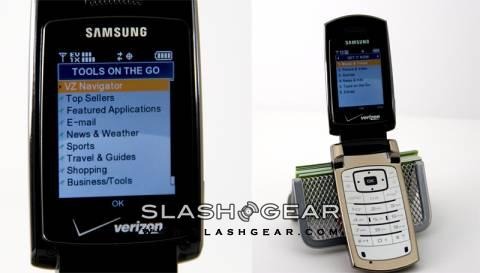 Sound, meanwhile, is either via the internal stereo speakers, wired headphones or Bluetooth 2.0 A2DP headphones.  Don't expect miracles from the (wired) set Samsung include in the box, but quality generally is decent with even the speakers coming across full-bodied and easily capable of annoying whoever is around you on the bus (until you crank it up all the way, at which point it begins to distort).  External touch-sensitive playback controls below the 96 x 96 sub-display are a classy touch, and work well.  It'd be nice to see Samsung (or Verizon) bundle a set of wire-free cans, though, or alternatively offer a "premium" package including a set as well as, say, a 4GB microSD card.  As it is, your $149.99 gets you a two-year contract and seemingly no extra card, unless you can sweet-talk your salesperson.
With all that functionality, it'd be a shame if navigating the Gleam was like juggling with treacle.  Thankfully apps and media move at a fair clip, with little of the lag sometimes associated with mainstream handsets.  Conversely, battery life is pleasantly prolonged; Samsung claim up to eight days standby or up to 3.5hrs talktime and, while it's too early for us to say how close it gets to that, after a fair amount of surfing, music playing and general use we've only dropped a single bar out of four.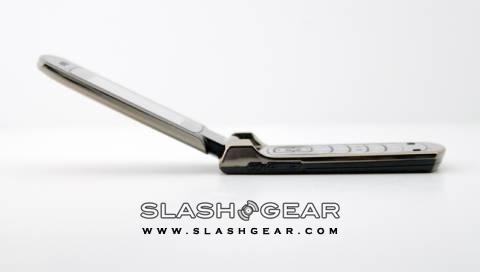 Of course, you'll be wanting to talk and message on your Gleam, not just sit back and enjoy all the V CAST media, and so you'll be pleased to hear there's a full range of IM and text-message options onboard.  Besides basic SMS messages you can send images and video, and there's Samsung's usual email client and a multi-platform IM app called Mobile IM that supports simultaneous connections to AIM, MSN and Yahoo!  We were surprised at how well the voice-dialling speech recognition works, needing no training and coping with a variety of unusual names (not that we tried to trip it up on purpose, of course...).  The same system will also read out text messages, menu options and tell you who's calling.
The usual brace of accessory applications are present – calendar, note pad, alarm clock and calculator, among others – which while unremarkable all nonetheless prove useful at some point or another.  As is, of course, the ability to transfer music (in MP3 and WMA formats) and images to your PC via a data cable; we're not yet certain if Verizon will be bundling the Gleam's cable with the handset.  Playlists can either be established on your computer and swapped over at the same time, or set up on the Gleam itself.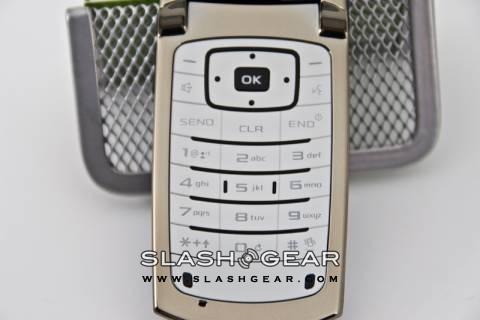 As for the camera, at 2-megapixels it's par for the course in terms of quality compared to rivals, but the lack of autofocus or a nifty LED pseudo-flash limits usefulness in all but reasonably-lit situations.  Still, both video and still images are possible (the former limited to the capacity of memory card you're using; the latter available in resolutions up to 1600 x 1200).  Meanwhile, Verizon's VZ Navigator assisted-GPS service – which uses triangulation by cell tower rather than the usual satellite tracking – is present and can be used for directions and points-of-interest.  Of course, like the V CAST media, it's a cost-option on top of your line rental.
Just as it's difficult for manufacturers to position their handsets apart from the crowd, it can be tricky to say conclusively whether a mainstream mobile is better than the rest (or, even harder, if it's "the phone for you").  The Samsung Gleam is undoubtedly a capable and function-packed cellphone, and at $149.99 (after a $50 rebate) with a standard two-year contract it comes in at a reasonable price.  It'll be particularly tempting for anyone looking for a straightforward way to get their laptop online at EV-DO speeds, and equally happy in the hands of keen messagers, although would-be photographers should perhaps look elsewhere.
[rating:3/5]