SlashGear HP Magic Giveaway starts today!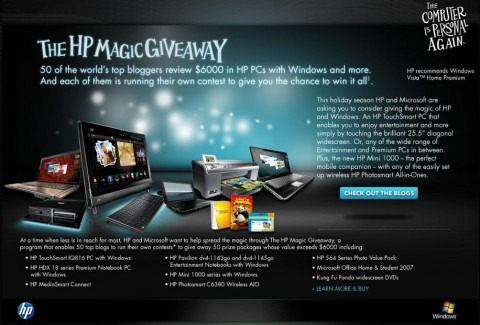 Today's the day to launch SlashGear's HP Magic Giveaway, your chance to win $6,000 worth of HP and Microsoft hardware and software.  If you've been following any of the other giveaways from sites taking part with HP and Microsoft, you'll see that everyone is encouraging the winners to think about who they'd share the $6,000 prize package with.  This will be the end of a tough year for a lot of people, and as such we're asking you to tell us who you'd like to share the prize with, and why.  Remember, you're winning five computers, among other things, so we hope you can find some good ways to distribute them.
We're looking for a winner who's generous and thoughtful in how they distribute the prize.  That doesn't mean you have to give everything away – it comes down to who you choose to give to, and your reasons behind it.   To enter, register on the SlashGear forum and reply to this post confirming you're taking part: that logs your IP, to make sure people only enter once.  Then email your entry to hpmagic@slashgear.com, making sure to give a link to your forum reply so we know who's who.
Entries must be submitted by midnight central time on December 17th, and HP have agreed to pay for worldwide shipping so you don't need to be in the US to take part.  Full rules are below, and remember the forum post to comment in is here.  Good luck!
UPDATE: The winner has been announced!Prize Package:Hardware
• HP TouchSmart IQ816 PC
• HP HDX 18 series Premium Notebook PC
• HP MediaSmart Connect
• HP Pavilion dv4 series Entertainment Notebook PC (with Windows Live)
• HP Mini 1000 (with XP)
Accessories
• HP Photosmart C6380 Wireless AIO (printer)
• HP 564 Photo Value Pak
Software
• Microsoft Windows Vista Ultimate/Home Premium or Microsoft Windows XP pre-installed on all units (Mini 1000 runs XP)
• Microsoft Office Home and Student Edition 2007 (Student-Teacher Edition) – 1 DVD with 3 licenses
• Microsoft Windows Live
• Corel VideoStudio X2
Entertainment
• Kung Fu Panda (2 widescreen DVDs; 1 widescreen Blu-ray disc)
RulesCompetition is open to anyone over the age of 18, as long as they have not yet won another HP Magic Giveaway.  Family members of HP, Microsoft and SlashGear are not permitted to enter.  Competition entries are only accepted via the hpmagic@slashgear.com address; entries left in the comments section of this, or any other post, will not be recognized.  Entries should be submitted before midnight central time on December 17th; one entry per person.The winner will be announced on SlashGear and contacted via email; they will be expected to respond within 24 hours else their prize may be forfeit and another winner selected.  Editors decision is final and no correspondence will be entered into.  SlashGear will ship the prizes directly to those that the winner wishes to share them with.  Winner agrees that their name and details of their entry may be used for promotional purposes by, but not limited to, SlashGear.Please note that while the competition is open to worldwide entrants, the prizes have been supplied by HP US and are US models.  Some features may not be available depending on your geographic location.  Winner is responsible for any tax or duty incurred in shipping the prize outside of the US; SlashGear will endeavor to arrange delivery to winner's location, but this is dependent on suitable shipping services being available.  Any US winner will be provided with a form for tax purposes so that HP may reimburse you via check for the taxes on this $6000.00 prize package.  There is no cash alternative.