Skullcandy Vert Review: Wireless Earbuds Made For Gloved Hands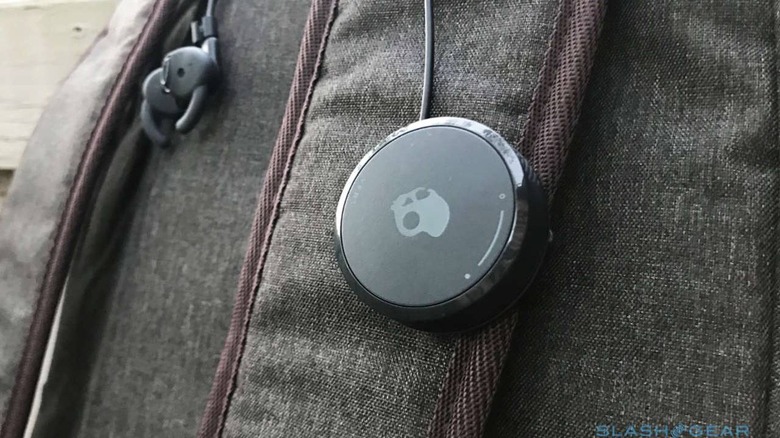 EDITORS' RATING: 8/10
Skullcandy has launched a pair of wireless earbuds that come with a unique twist: a large puck-shaped dial designed for use by gloved hands. The idea behind the unique design is simple: if you're out snowboarding, for example, you'll likely be wearing a pair of gloves and listening to music using earbuds. In order to adjust the volume, pause the playback, and more while on the snow, you'd need to remove the gloves first. Skullcandy designed its new Vert model to offer a solution to this problem.
The Skullcandy Vert is readily identifiable as a pair of wireless earbuds, ones that just look odd at first glance. Ordinary Bluetooth earbuds typically feature a slim in-line remote control with volume buttons, an action button for answering calls and pausing audio, as well as a built-in microphone.
The Skullcandy Vert are virtually identical to these models, except the in-line remote is actually a large dial from which the two tethered earpieces protrude. The back of this 'puck' has an ordinary plastic clip that can be clipped onto a backpack strap, shirt collar, goggles or helmet strap, or something similar.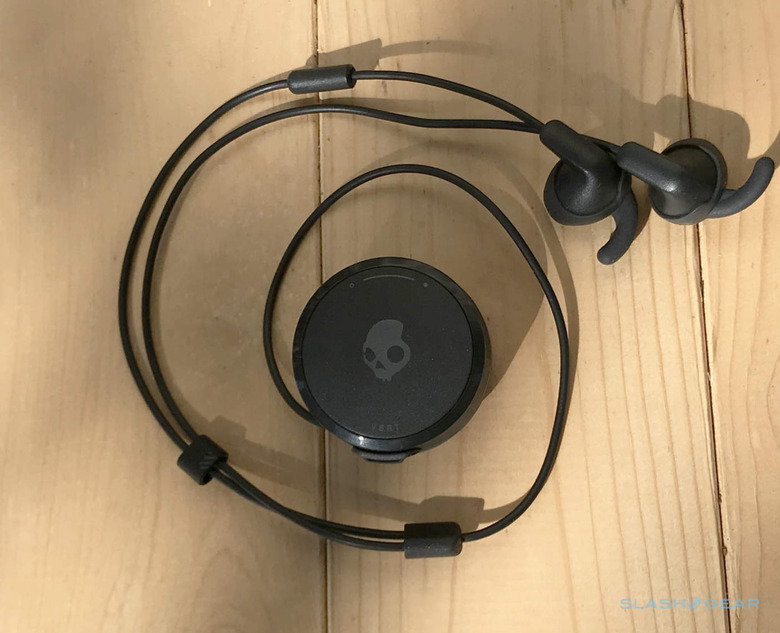 The cables aren't long enough to allow the dial to be attached to an armband, which isn't a big deal if you're wrapped in a winter coat while out snowboarding. Winter athletes are Skullcandy's primary target with this model, though there are no doubt others who may appreciate the dial — someone who has mobility issues, for example, or anyone who finds tiny in-line controls annoying.
The functionality is straightforward: you twist the dial to turn up the volume, press the dial for the 'action' (answering a call, pausing audio, etc.), and long-press the dial to enter pairing mode. A small LED indicator on the dial flashes blue when the earbuds are turned on and paired; it alternates flashing blue and red when the earbuds are turned on and put into pairing mode.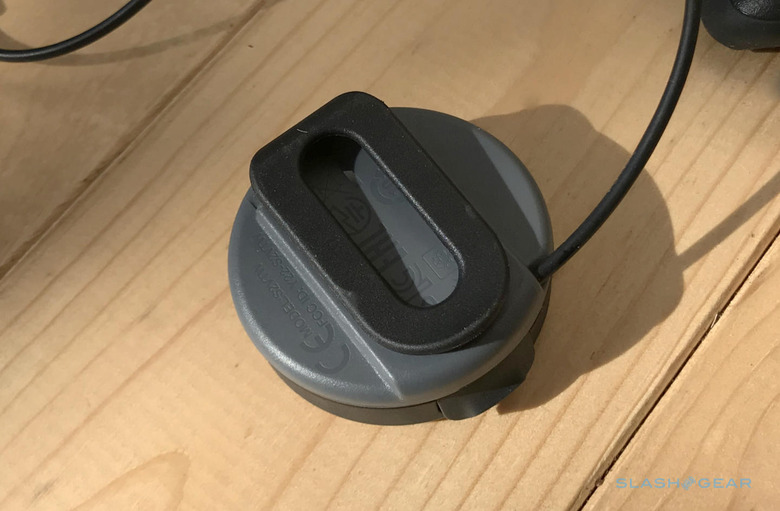 A rubber flap conceals the USB charging port on the dial, which is obviously used to recharge the model's internal battery. Users can expect up to around 10 hours of battery life from a full charge, plus there's rapid charging support for quickly topping up the battery.
As expected for earbuds intended for sports, the model has an IPX4 rating, which means it is sweat- and water-resistant. As well, and most notably, the earbuds also have a Tile Tracker built-in, meaning you can use Tile's system to find the earbuds if they're lost or to track a bag or other item they're in/attached to.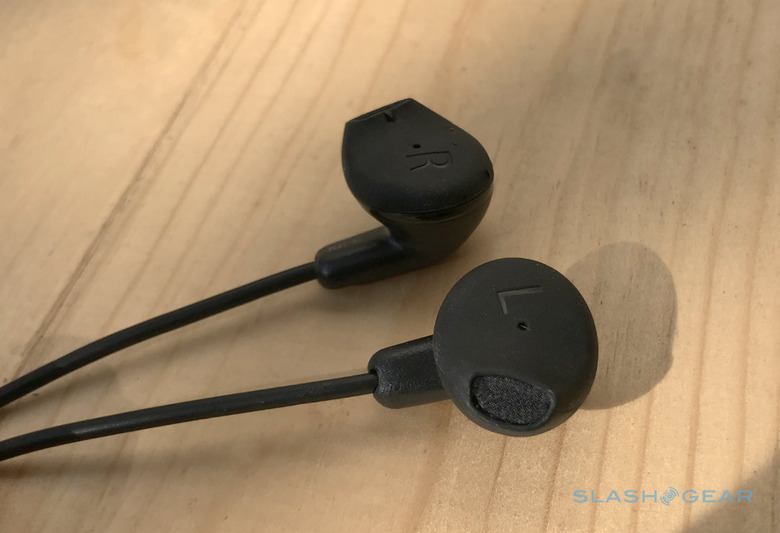 Skullcandy says it designed the earbuds to allow ambient noise to reach the listener's ears, which is a fancy way to say the company used an ordinary earpiece design that doesn't sit deeply in the ears. The style is similar to the earpiece found on the ordinary wired Apple EarPods; it is joined by removable rubber sleeves that include small flexible fins to help keep the earpieces fixed in place.
Whether this is ultimately a good thing depends on the user. The ability to hear surrounding noises is important for someone who is jogging or participating in certain other sports, but some users may find that the loose fit allows too much ambient noise to mix with the music. As well, some people (like myself) may find the design unsuitable for their ears, resulting in frequent issues with keeping the earpieces from wiggling loose.
Wrap-up
Skullcandy has introduced a unique design that makes things easier for winter sports where listeners are often wearing gloves, as well as anyone who struggles to use a small in-line remote control. The dial's design is great in every aspect, but users may find the earpiece design provides too loose of a fit, potentially making it difficult to keep the earbuds in place.
Vert is available from Skullcandy now for $79.99 USD.