SkinIt Etched Metal Plate for iPhone 4S Review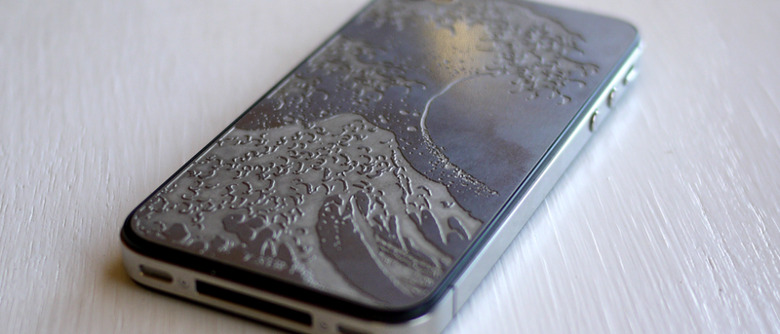 As far as unique skins for the mobile market go, iPhone or not, there's nothing quite as detailed and unique as SkinIt's own Etched Metal Plates. These plates are made specifically for the iPhone 4 and iPhone 4S and attach flat to the back of your device with a simple adhesive sticker. The adhesive is no joke, of course, strong as it needs to be to hold this plate on for the long haul, and the folks at SkinIt mean business when they say its stainless steel.
Those of you looking for protection for the back of your iPhone, you're certainly going to find it here. This is a plate, meaning its flat and does not wrap around the edges of your device in any way. These plates are not made specifically for protection, nor do they interfere with any other accessory you might have for the device (to a degree – it's not invisible, after all,) and will not cut down on your reception in any way at all. These plates are made to make your iPhone into a "sculptured work of art" – and they certainly have no trouble doing that.
[vms 1094e63a15ab883d5013]
Have a look at the application video here and see how simple it is to get one of these mothers on to the back of your iPhone. Here we're using the iPhone 4S from Verizon, but know this: these plates work perfectly fine for all iPhone 4S and iPhone 4 models. The only complaint I've had about the plate I have here (it being the Etched Great Wave Steel) is that I get worried that the metal will scratch the OTHER devices I've got in my pocket. If you're not the sort of person who carries around more than one smartphone at a time in one pocket, you'll be just fine.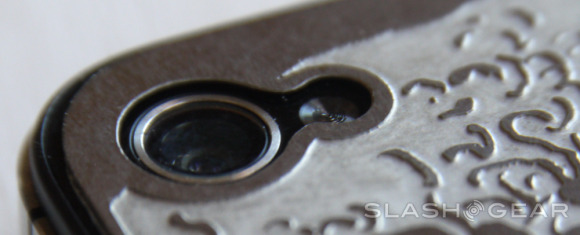 At the moment the folks at SkinIt have five different designs for their Etched Metal series: Flourish, Sudden Blush, Millipede, Circles, and Great Wave, and each design has its own set of color options. Each design has Black, Steel, Berry, and Lime color options, while the Wave has Blue instead of Lime, and the metal is actually a different color if you choose steel over any of the other colors. the colors come in behind the metal in a surface that lie between the adhesive and the metal – so you wont be seeing your iPhone's back color with these plates.
The best part about this whole situation is that all colors and designs are a mere $24.99 each – pick up a batch! These plates are all in stock right this second over at SkinIt's own online store.