SIRIUS Official Announcement of Stiletto 100 and 10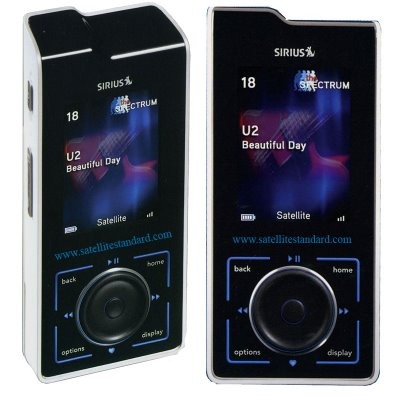 The new Stiletto 100 and 10 will ship in September and October, respectively. These two portable players are capable of playing live Sirius broadcasts. Both models offer the same touch-sensitive wheel that's located below the large, easy-to-read color display screen. The Stiletto 100 storage has the capacity to how up to 100 hours of MP3 and WMA files. It features WiFi, includes a unique antenna headphone for improving signal quality. Other accessory includes two lithium-ion batteries, one large and a slimmer version. The full-size battery allows four hours of live satellite radio listening and up to 20 hours of pre-stored-content listening, while the slim battery has only half the listening time. Also included in the package is the AC charger, earbuds, and a PC cable.
The Stiletto 10 will only have 10 hours of storage and doesn't have WiFi – priced at $249.
Sirius unveils its first 'live' portables [via Dealerscope]