Sidekick 3 UK - In Stores Now!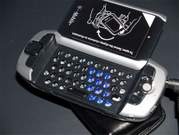 I've had a few people email me asking if I know when T-Mobile UK will start selling the Sidekick 3 – well, I was in a T-Mobile store yesterday and managed to have a play with the single model they had in stock.  Apparently they've had three-times the demand for them than supplies, with stores only getting replacements in once the first has sold.  So my advice is, ring ahead!  As of writing this, the T-Mobile website still has no mention of it.
My first impressions were that while the keyboard is good, the UI is a bit "kiddie".  Hopefully the demo unit winging its way will change my mind on that point; look out for our UK-model-specific review soon!