Shuffle and PrivateLine: privacy without compromises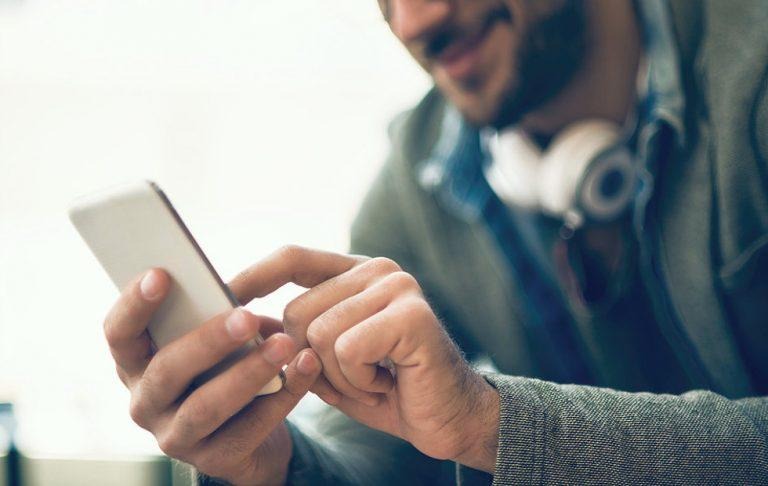 Our smartphones have become extensions of ourselves. From photos to messages to social media to email, our phones either contain our most intimate information or, at the very least, become the channel through which such information pass. And yet users continue to remain unconscientious of how they handle information on or from their phones, including something as basic as your phone number. Fortunately, Shuffle Ventures is on the verge of launching PrivateLine, their second mobile app, and service, designed exactly to help protect your digital identity and keep private things private.Sponsored Content by Shuffle Ventures, Inc
When Craig Collett moved to Canada in 2011, he became very interested in mobile solutions that aimed to protect users' private information, especially their phone numbers. "Our mobile phone is so much linked to your identity and we just give it out in the public domain," Craig explains. Being a thought leader and innovator, Craig didn't simply settle for unsatisfactory solutions and hacks. Instead, he developed Shuffle.
Shuffle's name was taken for its purpose, to let users shuffle between different identities and needs by providing them with second or more phone numbers and email aliases to give out for those use cases. It's like burner numbers and emails, but one that provides even more services, like instant messaging and SMS, voicemail, and picture messaging. Since it launched on iOS, Shuffle has garnered tens of thousands of users in 35 countries, earning it the distinction of being a leader in this market.
A new epidemic in the mobile market, however, pushed Shuffle to its limits. In November 2017, nearly 3 billion robocalls were made. Even worse, a third of these automated calls were meant to scam people. Fortunately, some mobile users were smart enough not to fall for the trick. Unfortunately, it has lead to a different extreme. According to a recent survey, 73% of mobile users in the US indiscriminately ignore any call from unknown numbers, whether or not those calls may have valid, even critical, purposes.
"Based on user feedback and as technology evolved, we always knew that a second phone isn't going to be enough for complete privacy on your mobile device," says Craig. Fortunately, he met a kindred spirit in Gavin Macomber, a mobile communications expert whose industry experience goes as far back as Vonage, where he held the position of VP for Mobile Strategy. Collett and Macomber put their heads together to create PrivateLine, a new app that not only provides a second number but also spam filtering and caller ID. All while respecting your privacy.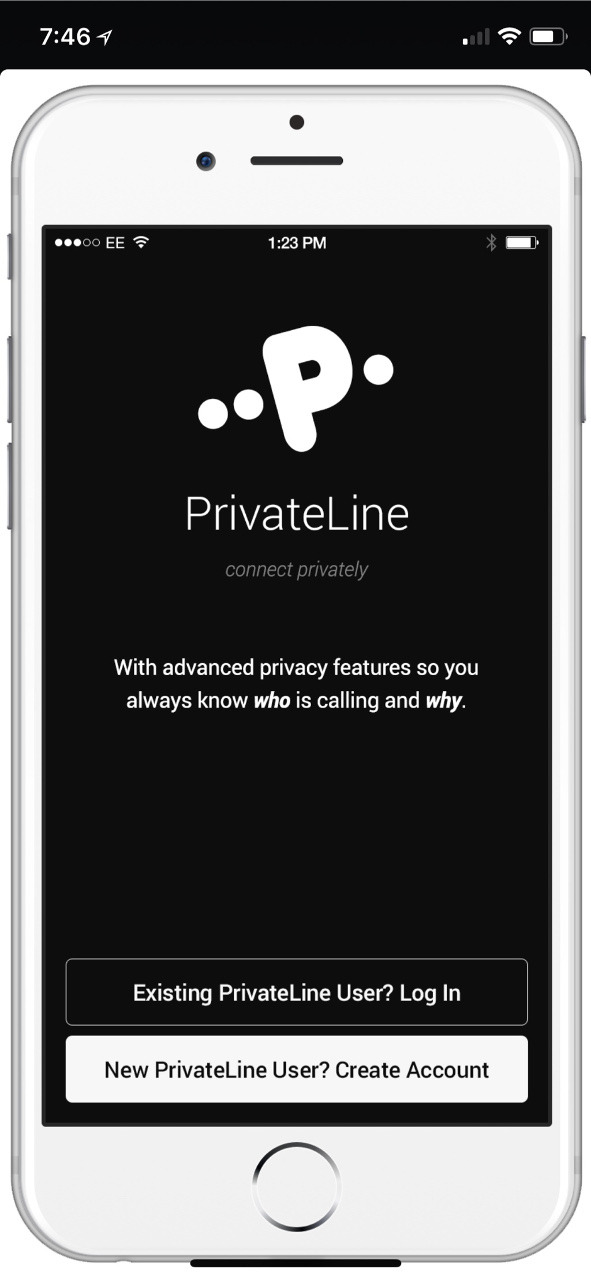 Spam call filtering and caller ID apps are nothing new. The most popular ones today include the likes of Hiya and TrueCaller. Both services are considered to be crowdsourced services which, at first blush, seems like a powerful and efficient strategy. PrivateLine's creators, however, argue that that's the source of their problems. For one, users are not always aware that signing up for these services basically means that they are uploading the data from their phone's address book to Hiya's and TrueCaller's databases, whether those in your address book have agreed to it or, more likely, not.
Even worse is that these services, often offered for free, may share that data with third-parties. Such is sometimes the drawbacks of products that offer free services, where the actual costs are intangible and sometimes hidden. While TrueCaller's revenue source is more obvious, that is, ad-driven, Hiya's isn't. That should make users suspicious where Hiya gets its funding from.
But even without the ads angle, PrivateLine, on paper, promises a bit more meat than those two services, technologically speaking. Macomber describes these crowdsourced services as not having any real underlying technology driving the services. It's like a very crude Wikipedia, where everyone simply adds to the database content by uploading their address books, whether they are aware of the privacy implication or not. In other words, these services mostly have the users do the heavy lifting for them, and at their own risk. Having such a central location for harvested phone numbers also make Hiya and TrueCaller a big target for hackers.
PrivateLine operates in complete contrast to that. Sure, it naturally has its own database of numbers used for spams and scams. It won't, however, require you to upload your address book to populate that database. In fact, it doesn't even need your phone number to sign up for the service. You only need to give that piece of data if you want to enable call forwarding.
PrivateLine utilizes its own brand of AI and machine learning to process that incoming number and give users options on what to do whether, whether to take the call, ditch it, transfer it to another number, or let the phone's personal assistant deal with it. But perhaps the most interesting implication of using these smart technologies is that PrivateLine will be able to tell you why someone is calling you in addition to who is calling. It does so by screening and then analyzing the caller's message, which it also displays to the user. This allows the app to actually block the calls even before they reach you and let you decide whether to take the calls that do get through or not.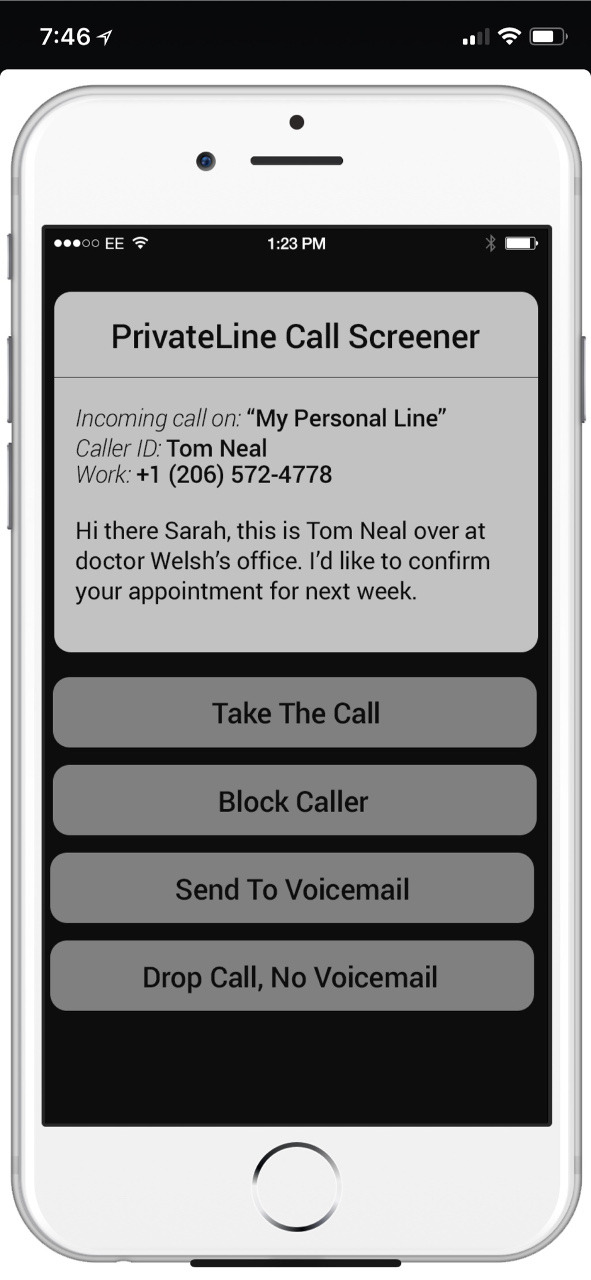 Like Shuffle, PrivateLine's second number will be VoIP-based. This might be an important consideration for those planning on using it with services that require users to use actual phone numbers, mostly banking and financial apps and websites. Using VoIP, however, actually aligns with PrivateLine's purpose. A VoIP number can't immediately be associated with your identity, unlike a regular phone number, which is less transient. VoIP does have one other practical implication: making or taking calls from regular phone numbers. This will definitely be one aspect where PrivateLine will charge a fee.
Another difference from popular crowdsourced spam filtering and caller ID is that PrivateLine will adopt a more traditional business model. Shuffle Ventures is still working out the details, but it won't be a simple free service funded by privacy-infringing ad revenue. When PrivateLine first launches, it will be iOS-only, but an Android version is also written in its future. There's no timetable for PrivateLine yet, but you can already sign up to be informed when it starts rolling out.
As for Shuffle, the startup's first baby isn't going anywhere. Shuffle and PrivateLine serve different purposes, even if their target audience might be the same. Shuffle's gameplay is in providing multiple numbers "for every occasion", compartmentalizing personal, work, and other identities. PrivateLine offers a more permanent second number, with the ability to screen incoming calls, making it a better fit for some business scenarios. There are even some features in the pipeline for Shuffle, like being able to pick from a list of numbers within an area code (currently, phone numbers are randomly selected). Though some, like an iPhone X-compatible UI or even Touch ID and Face ID support, have been considered but not exactly a top priority yet.
Macomber, who serves as a consultant at Shuffle Ventures, describes the current situation as "becoming like an epidemic, around mobile privacy." And while the company's PrivateLine is being poised as an up and coming solution, it has to begin with disseminating information. "We really think that users need to be made aware of what's happening out there in the industry at the moment," Collett says. And what's happening, as far as these privacy apps are concerned, isn't privacy but is, in fact, giving up privacy. In other words, it's a severe case of reverse privacy. Learn more about PrivateLine here.
Disclosure: Paid-sponsored post by Shuffle Ventures, Inc