Sharp X-Series LCDs get wireless option for easy wall-mounting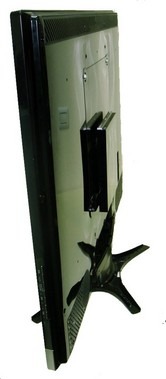 Wall-mounting LCD and plasma TVs might look good if done properly, but all too often the cable management leaves HDMI and other cords dangling down the wall. Sharp are offering a solution, in the shape of the WHDI "wireless HDTV" accessory for their new X-Series LCDs. Developed in partnership with AMIMON, the system allows uncompressed HD footage to be sent wirelessly up to 100-feet.
Part of the reason Sharp's X-Series displays are so compact (3.44cm deep at their thinnest point) is that the company has separated out the panel and the tuner. The wireless system consists of two boxes, one which slaps onto the back of the X-Series screen, the other which plugs into the tuner, rather than the usual cable. Because of that it's likely to be a proprietary connection, rather than a standard HDMI.

Available in 37-, 42- and 46-inch screen sizes, the X-Series range goes on sale in Japan this month, with US availability coming sometime soon. All will be compatible with the WHDI system (which unfortunately seems to add depth to the screen itself).
[via Engadget HD]