Sharp intro 52 and 47 inch HD LCDs with built-in web browser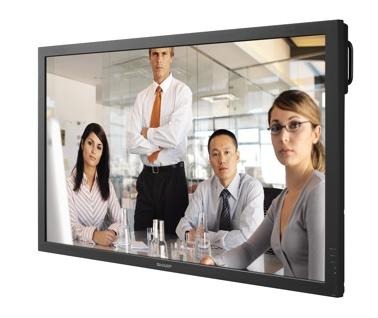 These serious looking business-people have heard you're not giving Sharp's new range of professional HD displays the respect they deserve, and they're not impressed. The TL-M4600 and TL-M5200 measure 46-inches and 52-inches respectively, with full 1920 x 1080 two-megapixel high-definition resolution. Intended primarily for commercial use, I can see their fan-free passive cooling and ethernet port winning them fans in the home install crowd.
Both displays use Sharp's proprietary Advanced Super View (ASV) panel, with a sub-6ms pixel response time and 176 degree viewing angles. The monitors feature 1500:1 (TL-M4600) and 2000:1 (TL-M5200) contrast ratios. Connectivity includes analog and DVI-D computer inputs as well as HDCP-compatible HDMI, and both the M4600 and M5200 have a built-in web browser.
The TL-M5200 is available now priced at around $4,995. The TL-M4600 will be available in June priced at around $3,995. Both have a three-year warranty which includes the backlight.
Press Release:
Sharp(R) Expands Professional High-Definition Liquid Crystal Display Monitor Line with Price Competitive Series

TL Monitor Series offers slim profile and LAN control for networked capability

MAWHAH, N.J. –(Business Wire)– May. 12, 2008 Expanding its broad line of Professional Liquid Crystal Display (LCD) Monitors, Sharp today announces the new TL Professional LCD Monitor line, a full 1920 x 1080 two-megapixel high-definition (HD) resolution series. This series joins the high-end PN Monitor series, providing an affordable complement for display and presentation opportunities requiring accurate and precise image reproduction.

The new series, including the 52-inch class (52.03" diagonal) TL-M5200 and the 46-inch class (45.9" diagonal) TL-M4600, offers high image quality, features and performance at a very competitive price point. They are ideal for use in a wide range of settings including teleconferencing, CAD/simulation, digital signage, corporate, educational, training, hospitality, sports arenas, entertainment and house-of-worship.

"The large-format display market continues to evolve, with increased needs for advanced functionality and connectivity in a reasonably priced package," said Dan Wynne, senior director of marketing, Professional Display Division, Sharp Information and Imaging Company of America. "With the addition of this affordable monitor series, Sharp will reach a broader audience while offering superior image quality and improved compatibility, for reliability in a wider range of commercial applications."

The TL series features a new thin, lightweight cabinet design for easy installation as well as RJ-45 LAN Control for increased network connectivity. To ensure reliable operation and backlight life, Sharp has optimized the internal cooling with a unique fanless design and backlight system.

High Image Quality

The TL Monitor series has a full, two-megapixel 1920 x 1080 HD resolution for exceptionally accurate and precise image reproduction. Sharp's proprietary Advanced Super View (ASV) panel provides stellar picture quality for fast-moving video through its fast pixel response time of less than 6 ms, as well as high brightness and wide 176 degree viewing angles while maintaining exceptionally low power consumption. For a superior picture in practically any lighting condition, the monitors feature 1500:1 (TL-M4600) and 2000:1 (TL-M5200) contrast ratio, enabling viewers to discern details they might otherwise miss, particularly when viewing darker content. High image quality and color accuracy is ensured through Sharp's advanced signal processing technology, providing an unparalleled image for a professional presentation of information, data and images.

Enhanced Connectivity

The new TL monitor series has an array of input connectors to show all types of content, from DVD to varying PC resolutions from both analog and digital (DVI-D) sources for all types of presentations. The monitors include an HDCP compatible HDMI input for access to premium HD content, as well as a built-in Web browser. The monitors are designed for landscape mode use, and also offer an optional stereo speaker system, which attaches across the bottom of the display, for enhanced audio during presentations.

The new TL series complements the current "PN" series, which features Sharp's highest commercial design, with models available for both landscape and portrait modes. The PN series is recommended for extended-use 24/7 applications and is "trade compliant" (manufactured in Japan), and available on GSA (U.S. Government's General Services Administration) contract. The PN series comes with a 3-year on-site limited warranty covering parts, labor and backlight.

The TL-M4600 and TL-M5200 are supported with a 3-year on-site parts and labor limited warranty, including 3-year warranty on the backlight.

Pricing and Availability

– The TL-M5200 is available now through Sharp authorized dealers and value-added resellers for a Manufacturer's Suggested List Price (MSLP) of $4,995

– The TL-M4600 will be available in June through Sharp authorized dealers and value-added resellers for a MSLP of $3,995

For more information, please contact Sharp Electronics Corporation, Professional Display Division, Sharp Plaza, Mahwah, N.J. 07495-1163, or call 866-4-VISUAL (866-484-7825). For online product information, visit the Sharp Professional Products Web site at SharpLCD.com or e-mail: ProLCD@SharpUSA.com.

Sharp Electronics Corporation is the U.S. subsidiary of Japan's Sharp Corporation, a worldwide developer of one-of-a-kind home entertainment products, appliances, networked multifunctional office solutions, solar energy solutions and mobile communication and information tools. Leading brands include AQUOS(R) Liquid Crystal Televisions, 1-Bit(TM) digital audio products, SharpVision(R) projection products, Insight(R) Microwave Drawer(R) appliances, and Notevision(R) multimedia projectors. For more information visit Sharp Electronics Corporation at http://www.sharpusa.com.