Shadow SS Watch Offers Analog and Digital In Same Watch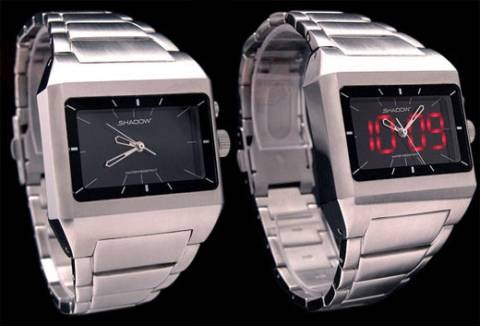 The Shadow SS appears to be an analog-only watch at first glance. Press a button on the side though, and all of the sudden the digital time pops up from behind the analog face.
The digital and analog times can be synchronized, or set to different time zones. The watch is also stainless steel. Oh and did I forget to mention that its water resistant for up to 5 atmospheres? I don't know how well they will stay behind the water resistant thing, my watch, a Citizen Elektra 28-Diamond watch was sent in to have the crystal replaced and when it came back the only thing I had done the first day I had it was wash my hands, and then there was water inside the watch! When I sent it in, they told me not to submerge my watch and then didn't fix the problem.
Anyways, there is the pictured square-faced one for $199 or there is a round-faced version called the Shrewd for $179. I want one, that's for sure, I cant even use my $500 Citizen at night because there is no light or glow in the dark, this would be handy for those times.
Shadow ss watch hides led under analog dial [via technabob]