Seven BlackBerry 7 Smartphones Incoming As RIM Struggles To Compete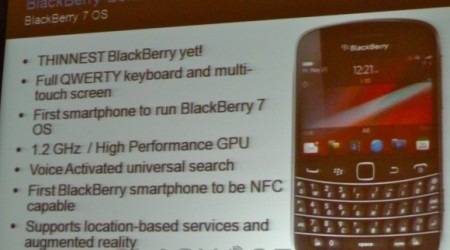 RIM is not doing well on the smartphone market today as users leave in droves for the iPhone and Android devices. RIM's Blackberry line of smartphones was once the most popular on the market and that popularity has waned as RIM struggled to keep up with the rapidly changing smartphone market. RIM also has difficulty in the tablet market with sales of its Playbook tablet a disappointment to the company.
RIM had its shareholder general meeting recently and during the meeting co-CEO Jim Balsillie told investors that the company plans to launch seven new smartphones with the next generation Blackberry 7 OS running the show. However, the executive did point out that the company would be challenged to hit the target of seven launches. Balsillie also said that their had been delays in launching a new version of the OS. The new phones are expected to allow RIM to meet its financial goals for the year.
The other half of the co-CEO team at RIM is Mike Lazaridis. Lazaridis noted that the delays with the new versions of the OS were due to the efforts put into getting the smartphones to meet market expectations. "[Adopting competitive hardware] may have delayed us, but we are going to come out ahead," Lazaridis said. We already have a idea of a few of the smartphones running the new OS like the Bold 9900 and 9930 as well as the leaked Touch 9860 Monza/Monaca phones that have been spied in the wild already.
[via Guardian]