Seagate announces FreeAgent Go Drives in many colors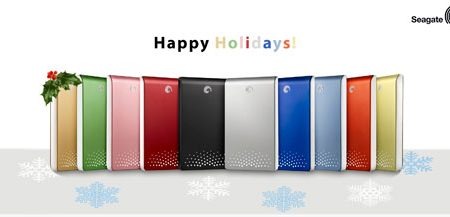 If you're looking for a great way to store your information but don't want to spend a fortune and maybe want something that looks stylish, you might wish to consider the new FreeAgent Go drives from Seagate, now available in a vast array of color options, just in time for the holidays.
These portable drives used to only be available in blue, black, red and silver. But now, you can still choose from these color options and many more including light blue, pink, gold, orange, light green and dark green. It sounds quite festive, if you ask me! Plus, if you bought one of these drives or plan on doing so soon, you will get a bonus multimedia package when you register between November 28th and New Year's day.
You can also download 50 songs for free, get a movie rental from eMusic free and a 50% discount on a SmugMug subscription. All of these offers are a part of the Seagate Load Me Up promotion. In case you've forgotten, the FreeAgent Go drives feature a 2.5-inch hard drive, a dock connector, a USB port and a leatherette carrying case. Available in 250GB, 320GB and 500GB models, you can expect to pay $119.99, $149.99 and $199.99, respectively.