SCV1 Backseat TV from Sirius - More entertainment on the road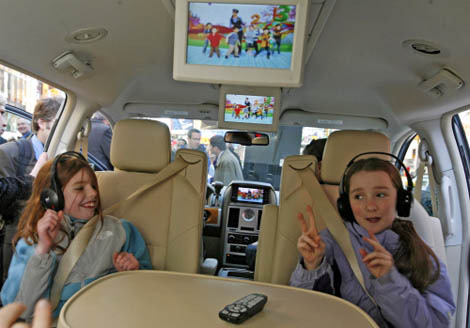 A lot of people travel with kids, and one of the biggest issues with doing so is keeping them entertained. These days simple coloring books just don't seem to cut it. Personally I just need some good music and my DS and I'm set. Many people tend to rely on backseat DVD players to keep the young ones from getting bored, but how many times can they watch the same few DVDs that you brought with you? Sirius has the answer.
You won't even need to bring those DVDs along if you have the new SCV1 Backseat TV from Sirius. The satellite TV for your car brings you three channels targeted at the younger crowd, Nickelodeon, Disney and Cartoon Network.
The kit includes just about everything that you'll need to entertain your children for hours, except the monitor(s). If you don't already have a monitor for your vehicle, you'll need to purchase one. The kit will retail for around $300 this fall and will be available as an add-on in the new 2008 Chrysler Town & Country and 2008 Dodge Grand Caravan minivans.
Getting Sirius about Satellite TV in the Car [via coolestgadgets]