Scandyna Micropod SE Active Review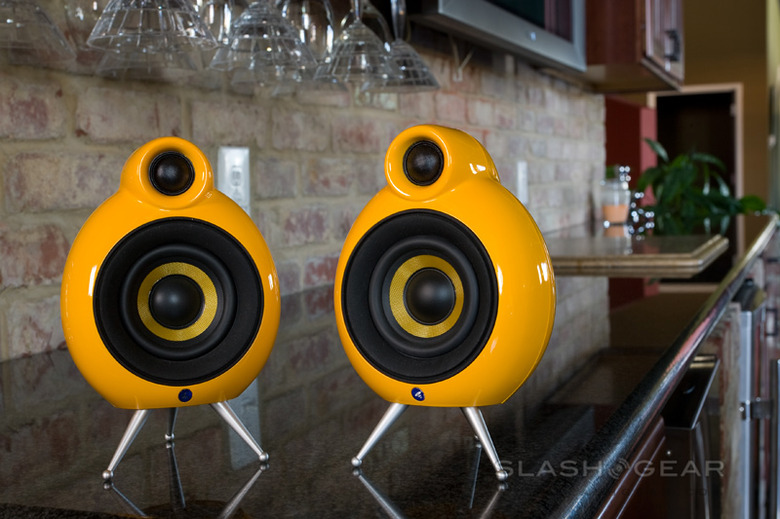 These curvaceous and futuristic Micropod speakers from Scandyna look oddly familiar; in some way, the Kevlar drives and tube enclosure tweeter reminded me of the legendary B&W Nautilus 800 series speakers. I kid you not, the original pod speakers were in fact developed by the team behind the World-renowned Nautilus, but it was later licensed to a Danish speaker maker, Scandyna.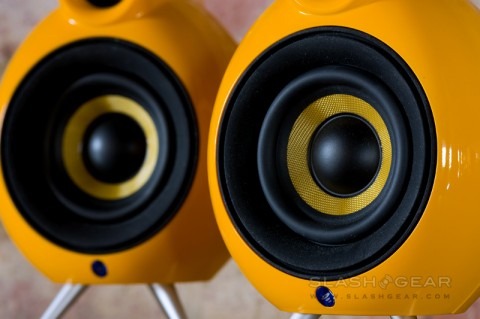 Speakers and Design
The first thing I noticed when unpacking the Micropod SE Active' was the size of the speaker. They are small and not as weighty as I expected them to be. Housings are constructed from solid ABS material with exceptional high gloss finishes. The sealed cabinet features a 2 way design with a 3/4-inch dome tweeter sitting on a pod beneath a 3.2-inch Kevlar midrange/bass driver with no cheesy foam surrounds on woofers.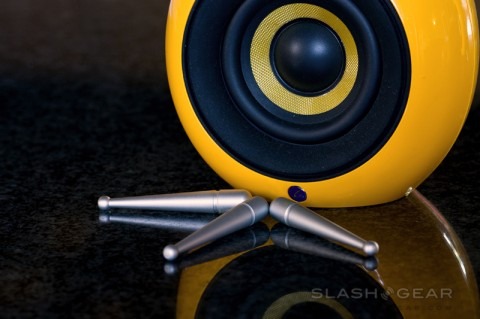 Being an active-speaker, the right speaker includes an integrated 10 watt amplifier. The back of the speaker sports an auxiliary-input audio jack, subwoofer output with a volume/power knob and terminals for the audio cable to the left speaker. There's a pair of five-way speaker terminal mounts on the right speaker with an unusual push spring locking type on the other. Unlike most speakers, the unit stands on three detachable aluminum spiked feet. The feet are easy to remove and secure with little effort. Overall design is very well thought with excellent build quality for $299.
Setup and Sound Quality
Setup was a breeze, I paired up the Micropod with Oppo DV-980H using an Integer preamp via a set of overpriced Cardas mini Plugs to dual RCA. My first instinct was checking for speaker hum or hiss and I'm happy to report that there were neither during the test. After securing the direct DSD bitstream using my preamp, I fired up the Micropod with a Mobile Fidelity Re-mastered SACD, Nightclub from Patricia Barber and The Look of Love from Diana Krall. Next up was Pilhofer Jazz Quartet's Full Circle to test the speakers' response to instrumental material.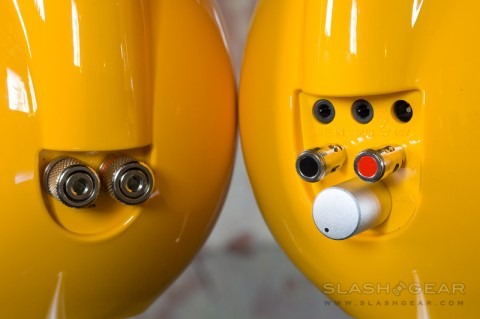 Don't let the palm-sized lifestyle speakers fool you, they sang and sound loud! I was able to turn the volume up with plenty of room left for listening in a room sized 15.5 x 10 feet, with no sign of fatigue or distortion. Make no mistake; it's more than adequate for desktop or work desk application. The pair did a good job of sounding natural on vocals and instruments. Stereo imaging and mid range clarity were impressive for the size; with a good sound stage, tight upper bass and mid range at the expense of extended bass response. Matching these satellite type Micropods with podspeaker's Minibass, you'll have yourself a uniquely stylish audio system with brilliant sound quality.
Summary
Some may blanch at the $299/each price tag, but for a distinctively designed speaker system with superb construction that looks and sounds this good, it's money well spent. The only complaint I have is the low quality speaker cables that comes with the unit. The Scandyna Micropod SE Active is available in six colors – white, black, silver, blue, yellow, and red.
[rating:4.0/5]