Sanyo portable projectors with auto-change air filters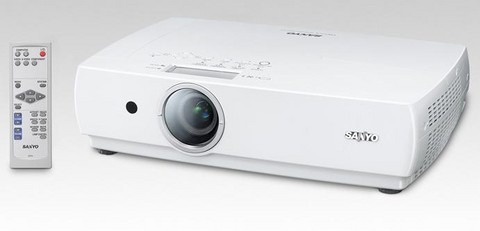 Sanyo has announced their latest portable projectors, the LP-XC55 and LP-XC50, both weighing just 4.2kg but still with 1,024 x 768 UXGA, WXGA or SXGA resolution. The company has also fitted its new Active Maintenance Filter (AMS) system, which uses a replaceable air filter cartridge rather than relying on users cleaning out the vents themselves. While the LP-XC50 has 2,600 lumens brightness, the XC55 manages 3,100 lumens.
Since a projector that's easy for you to carry is also easy for a thief to make off with, Sanyo have fitted an extra-wide security bar – 11mm, in fact – around which you can loop a steel cable. A single 7W speaker handles sound, and picture size can range from 40 to 300 inches with a 450:1 contrast ratio. Connections include DVI-I, D-sub, S-Video, RCA and mini-jacks for audio input.
Personally, I'm wary of the AMS system. Sanyo's press release might be bold in describing its ability to auto-advance to the next filter slide when it senses reduced airflow, and talk up the convenience factor, but they're coy about how much each filter pack costs. And considering they're rated to last around 12 months (3,000hrs of normal use), this could add an extra yearly tithe to your new projector.
The two new projectors will be available in Japan from July 11th. Pricing is yet to be announced.
[via I4U]