SanDisk Introduces Sansa c200 MP3 Player With Color Screen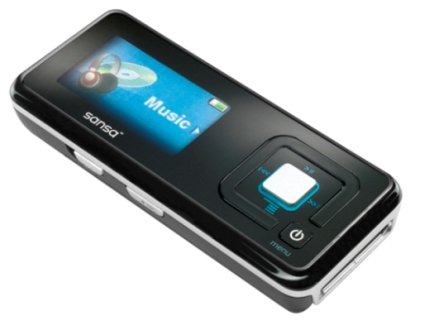 This is no joke; SanDisk is really releasing a replacement for the c100 line of flash-based players for under $100. The c240 comes with 1GB of storage and retails for $80 and the c250 has 2GB priced right at $100. Both models support file formats such as MP3, WMA, and WMA DRM. There's also and integrated FM tuner, microSD memory card for a maximum of 2GB of extra storage, voice recorder, a 1.4-inch LCD display with 128x98 pixels and a battery life of 15 hours.Press Release: 
SanDisk Introduces Sansa c200 MP3 Player With Color Screen, Card Slot And 2-Gigabyte Capacity For Under $100
Open-Format Flash Player Offers Sleek Design, Expandable Memory,
Removeable and Rechargeable Battery, FM Radio and Voice Recorder
BERLIN, GERMANY, SEPT. 1, 2006 – SanDisk® Corporation (NASDAQ:SNDK) today introduced the Sansa™ c200 series, a stylish flash memory-based MP3 player that is loaded with high-end features — such as a bright LCD color screen and a microSD™ expansion slot – and smashes the $100* price threshold for a 2-gigabyte (GB) player. The announcement was made at a press conference at IFA, the world's largest consumer electronics show, where SanDisk is exhibiting at Booth 103, in Hall 2.1 of Messe Berlin, through Sept. 6.
The c200 is sold in two capacities – 1 gigabyte (GB) and 2GB. However, the memory can be expanded with the addition of an optional SanDisk microSD™ card, which currently is available in capacities of from 256 megabytes (MB) to 2GB**. For example, with a 2GB microSD card, a user can transform a 2GB player into a 4GB player to hold nearly 2,000 songs (at 64kbps). The c200 supports WMA, MP3 and the protected WMA DRM format that gives consumers the ability to purchase or subscribe to music from most music service providers.
Suggested retail prices are $79.99 for the 1GB unit and $99.99 for the 2GB unit, and the SanDisk c200 is expected to be available from retailers in the U.S. and Europe in October, with other regions following later.
"The c200 has some of the characteristics of SanDisk's award-winning e200 series, including a small and sleek design and a microSD memory card slot that allows for expansion opportunities," said Keith Washo, SanDisk retail product marketing manager for the c200. "We believe that the c200, with its great price point, will give consumers an attractive set of features normally found in players costing much more."
Offered on the Sansa c200 are an FM tuner/recorder*** with presets for 20 channels, a voice recorder and a user-replaceable lithium-ion battery that provides up to 15 hours of continuous playback****. The SanDisk c200 is Microsoft Windows PlaysForSure compatible, meaning that it will support subscription music from on-line music providers such as Rhapsody, Napster and Yahoo! Music.
The Sansa c200 will display both music album art and digital photos, which can be imported directly from a personal computer or seamlessly from music files with album art data in the song information. It also can run a slide show of images while playing music. Sporting a thin profile (1.3" x 3.1" x .6"), light weight (1.51 ounces with battery, 1.09 without) and a durable plastic case, the c200 is ready for a flight, a workout in the gym or just hang time.
The Sansa c200 joins a family of SanDisk Sansa players that also includes the budget-priced m200, with capacities of 512MB, 1 and 2GB; and the top-of-the-line e200, which has a 1.8-inch TFT color screen, plays music, photos and video clips and comes in capacities of 2, 4, 6 and the industry-leading 8GB.
Included Features, Sansa c200:
Microsoft PlaysForSure support
Up to 2GB of flash storage capacity
Expansion slot for microSD card
Digital FM radio with 20 presets
Voice recorder with built-in microphone
Hi-Speed USB 2.0 interface for fast music transfers
Support for MP3, WMA (both protected/DRM and unprotected) and Audible audio file formats
Easy-to-read 1.4-inch color LCD (128 x 98 pixels) that displays album, artist and song title information, as well as digital photographs
High quality earphones
Sansa Media Converter software to convert the most popular image formats into thumbnail playback on the player
Lanyard and USB 2.0 transfer cable (universal connector to USB)