Samsung WB1000: 12.2MP, 720p video, AMOLED and retro dials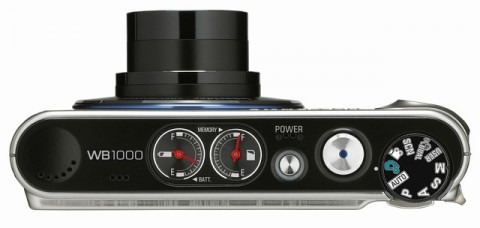 Samsung have unveiled a new digital camera that rocks its distinctive dual-analog-gage indicators.  The Samsung WB1000 has a 12.2-megapixel 1/2.33-inch CCD paired with a 24mm wide-angle Schneider-KREUZNACH lens and 5x optical zoom, together with a 3-inch AMOLED 480 x 260 display around the back.
The two retro gages show battery life and capacity, and are intended to be more intuitively read at-a-glance.  Meanwhile the WB1000 is also capable of recording 720p H.264 video, which also takes advantage of the camera's dual optical and digital image stabilization. 
Maximum ISO is 3200, though that scales down the frame resolution to a mere 3.2-megapixels, and the WB1000 stores either to its 76MB of internal capacity or up to 8GB SDHC cards (bigger may be supported, but not officially).  No word on official launch dates or pricing, but it's expected to arrive later this month for around $400.