Samsung vanilla digicam ES10 with 8.1MP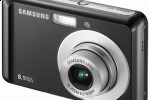 Samsung digital camp has quietly snuck a new ES lineup with the introduction of an ES10- a 8.1 MP 1 /2.5-inch CCD image sensor vanilla camera with 3x optical zoom, 2.5-inch LCD and a host of basic camera features you would normally expect from nowadays digicams.
The new Samsung spots an advanced Face Detection technology, Self-Portrait and a Beauty Shot (soft-filter) modes aimed to assist notices with most simplest and good quality snap shots. The moderate ISO sensitivity of 1600 and Digital Image Stabilization allows shots taken in clear details even at light challenged condition, and a Jpeg motion engine included to capture movies at up to VGA resolution.
The new Samsung ES10 will be available in the colors silver, black, white and pink, with price and release dates to announced later.
[dcviews]