Samsung TL320 12MP digital camera with OLED display leaks [Updated]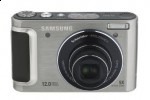 We may receive a commission on purchases made from links.
Amazon have seemingly outed an upcoming compact camera, the 12-megapixel Samsung TL320, whose relatively unique feature is a 3-inch OLED display.  The TL320 – which Samsung are yet to officially announce – has a 5x wide-angle zoom lens, together with Schneider optics.
There's also an image stabilizer and the same analog information dials – which indicate battery status and the number of shots remaining with small gauges, rather than on a digital display – as found on the Samsung TL9.  Otherwise details on the camera are scarce.
The online retailer have the Samsung TL320 listed at $329.99, though it's not currently in stock.  No word on when the OLED camera is expected to launch.
Update 02/23/09: Samsung have officially announced the TL320. The Amazon pricing was incorrect: the AMOLED display camera retails at $379.99
[via OLED-Info]