Samsung TL110 and TL105 ultrathin digicams outed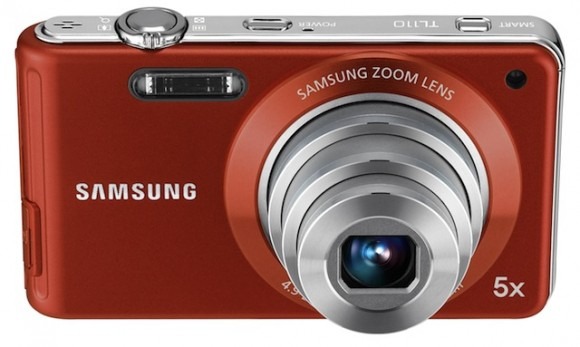 We may receive a commission on purchases made from links.
The last of the new Samsung digicams are the TL110 and TL105, a pair of slender 0.65-inch thick point-and-shoots hoping to find room in your party bag.  The TL110 has a 14.2-megapixel sensor and a 5x optical zoom, while the TL105 has a 12.2-megapixel sensor and 4x optical zoom; both pack both optical and digital image stabilization.
There's also a 2.7-inch LCD preview display and a 720p 30 fps video recording mode that captures H.264 footage.  As with the Samsung SL630, both the new TL's get a clever automatic mode that picks the correct scene settings for what you're shooting; they also extend that auto mode to video recording.
Finally, since a party isn't really a party unless you have ridiculous pictures of people gurning at the camera that you can upload to Facebook, the TL110 and TL105 both have various image effect presets, such as Fisheye and Lomo.  No word on pricing, but they'll both drop in February 2010.
Press Release:
SAMSUNG UNVEILS DUO OF STYLISH, ULTRA-SLIM DIGITAL CAMERAS

TL110 and TL105 Bring New Features and Functionality to Samsung's Ultra-Slim Series

Ridgefield Park, NJ (January 18, 2010) – Samsung Electronics America, Inc., a market leader and award winning innovator in consumer electronics, today announced two new ultra-slim digital cameras, perfect for consumers who want a stylish, on-the-go camera for parties, family gatherings and other special moments. At just 0.65 inches thin, the 14.2 megapixel TL110 and 12.2 megapixel TL105 are each equipped with a 2.7-inch LCD and feature a 5x optical zoom and a 4x optical zoom respectively.

"Consumers want portability in a point and shoot, and we think our ultra-slim TL110 and TL105 address that desire," said Mr. SJ Park, CEO of Samsung Digital Imaging Company. "Despite their size, both the TL110 and TL105 are feature-packed and ideal for beginner and advanced photographers who want a well-equipped but easy to use, compact camera."

Improved Optics

Samsung's new models feature an improved 27mm wide-angle lens (for TL110) and 27.5mm wide-angle lens (for TL105) when compared to their predecessor, the TL100. The TL110 has a versatile 5x optical zoom, which is paired with Dual Image Stabilization (IS) to help reduce image blur by combining both Optical and Digital Image stabilizers to produce sharp images. The TL105 offers an expanded 4x optical zoom and features Digital Image Stabilization.

Creative Effects Add to the User Experience

New image effects available with the TL110 and TL105, such as Fisheye and Lomo, let the consumer easily add a touch of creativity to their photos. Similar to other Samsung compact cameras, this duo offers a long list of user-selectable Photo Styles including Normal, Soft, Vivid, Forest, Retro, Cool, Calm, Classic, Negative, Custom RGB and two new options: Sketch and DeFog Clear/Fog Lifting, which cuts through the haze to take clear photos.

HD Video Recording

The TL110 and TL105 put high-definition video recording in the palm of users' hands thanks to the ability to record video at a resolution of 720p / 30fps, using H.264 compression. Additionally, to further simplify users' ability to record the best video possible, the cameras offer Samsung's advanced scene recognition technology, Smart Auto (Still & Movie). Smart Auto has been upgraded from the TL100 as it can now be used with video as well as with still images. Similar to the way the technology analyzes the composition of an image when capturing digital stills, the technology will do the same for video, automatically choosing between one of four pre-programmed settings and selecting the setting that will yield the best footage with proper exposure and color balance.

Additional Control

Consumers who want a little more control over their picture-taking can opt to use the Program mode or choose from a long list of Scene modes. Program mode allows the user to manually set options including ISO, white balance, metering mode, AF, and exposure compensation. Choosing a scene mode that best matches the shooting environment also provides users with some control but doesn't require much effort since the camera automatically adjusts the settings for the selected mode. Available scene modes include Beauty Shot, Night, Frame Guide, Portrait, Children, Landscape, Close-up, Text, Sunset, Dawn Backlight, Beach & Snow, and Fireworks.