Samsung SWD-M100 WiMAX MID video demo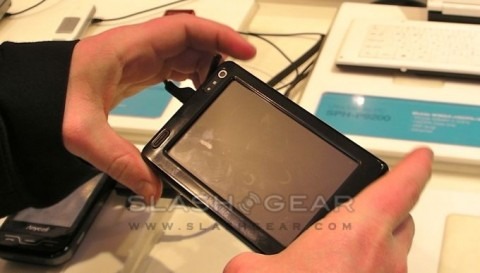 It was at Intel's booth rather than Samsung's at Mobile World Congress where we got our hands on the Samsung SWD-M100 Mobile Internet Device, and while the unit they had to play with was mysteriously non-functional, the hardware is certainly promising.  Hidden behind a 4.3-inch touchscreen there's a full slide-down QWERTY keyboard, together with WiFi b/g, Bluetooth 2.0 and – its crowning glory – WiMAX.Check out our hands-on video with the Samsung SWD-M100 MID after the cut
Ironically, given the state of WiMAX availability in the US right now, integrating it into the SWD-M100 smacks both of foresight and foolishness.  Frankly an HSDPA connection would be more useful, but at least if Samsung can bring it to market sooner rather than later it might make a fitting replacement to the recently-retired Nokia N810 WiMAX Edition Internet Tablet.
Just as the N810 runs a cut-down mobile OS, so does the Samsung MID: they've picked Windows Mobile 6.1, together with the Opera browser, to go with the SWD-M100's accelerometer-controlled auto-rotation, dual-cameras (3-megapixels on the back, 0.3-megapixels up front for video chats) and microSD memory card slot.  There's also a TV output connection.
No word on availability or price, but we're hoping to at least see a working prototype before too long.
]