Android 4.4 was launched to add Google Cloud Printing to all devices. But what if you don't have an Android smartphone or tablet to begin with? Samsung is coming to the rescue here at IFA 2014 with 10 new multi-function printers (MFP) that uses Android as its primary interface, removing the need for a middle man in the printing equation.
Android does have multiple wireless printing options, usually tied to specific brands and models. Sometimes, however, it might be easier just to do things directly on the printer, especially when documents are already in the cloud or the office local network. These Smart MultiXpress printers provide that convenience plus the flexibility of the Android platform right on the printer itself. Samsung hasn't detailed the actual specs of the attached tablet that comes with every printer aside from running on a 1.0 GHz dual-core processor, an upgrade from the previous gen of smart printers with only a single-core CPU.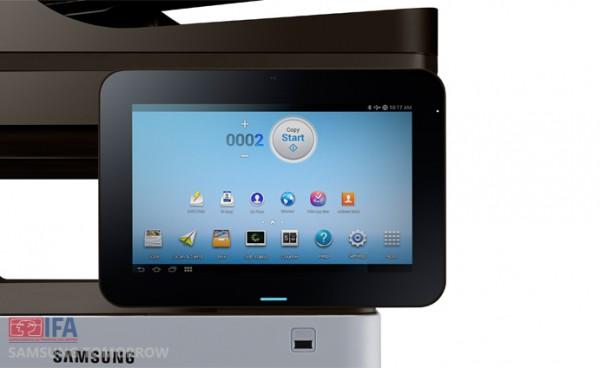 The 10 printers are grouped into four categories and each, of course, have their own output speeds. What all of them have common, aside from running Android, is Dual-Scan ADF which will let users scan double-sided images, usually at 100 images per minute for colored documents and 120 images per minute for monochrome. Of the printers, only the X4300 series offers color printing.
Samsung Smart MultiXpress X4300 Series

Samsung Smart MultiXpress K4350 Series

Samsung Smart MultiXpress M5370 Series

Samsung Smart MultiXpress M4580 Series

Despite having Android already on board, the printers are still well-equipped to handle printing from smartphones and tablets. The NFC Pro accessory, sold separately, makes secure pairing with devices a breeze. It even allows security settings on one MFP to be easily cloned on other printers with just a single NFC tap.
These Smart MultiXpress printers could be a smart, pardon the pun, idea, especially in workplaces where mixing business and personal data on mobile devices are discouraged. That said, if photocopying machines and common office printers have been notorious for being hubs of gossip and procrastination, imagine what an Android tablet on a printer, if not locked properly, could become. Angry Birds anyone?
SOURCE: Samsung