Samsung SGH-X820 - thinnest phone gets a damned good testing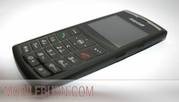 Weight is always a sensitive subject, I find. My third wife had the build of a mature walrus, and seeing her attempt to send text messages with her large, spatulate hands never failed to make me shudder. It should've been no surprise when she left me for a retired pastry chef, but it was.
Reminiscing aside, few areas are more determined in the race for wafer-thinness (aside, perhaps, from wafer-thin mints or, somewhat obviously, wafers) than cellphones. Samsung are the latest to crow their slender status from the rooftops; the SGH-X820 is a mere 6.9mm (0.27") thick, making it – for the moment – the world's thinnest.
As was the case with my ex-wife, however, there's more to it than what's on the outside. In her case it was a vicious temper and a habit of spitting as she talked, but for Samsung it's that complicated blend of features and ease-of-use. It takes a real good testing to check something like that out, and thankfully the good people at MobileBurn.com have done just that.
Samsung SGH-X820 Review [MobileBurn]