Samsung RFG299 French Door Refrigerator sports a LCD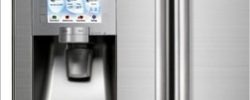 It's not that often that we feature appliances here on SlashGear, but this one just had to be mentioned. The Samsung RFG299 French Door Refrigerator is no ordinary ice chest. In fact, it features a LCD screen.
For those that just can't stand to be away from their technology, even while in the kitchen, this Samsung fridge is right for you. With a 7-inch touchscreen LCD built right into the door, you can control your refrigerator from the outside.
You can control the refrigerator's temperature and check on the water filter, of course. But even more impressive, you can access a calendar, keep your schedule, view nutrition facts, view photos and even check unit conversions for those cooking emergencies. Besides all of the techie goodness, this fridge also features a 28.5 cubic foot capacity. LED lighting is incorporated as well for great energy savings and brighter lighting. The Samsung RFG299 is available now in black and white and stainless platinum colors for $3,099.