Samsung raise the UMPC bar: Q2 details leaked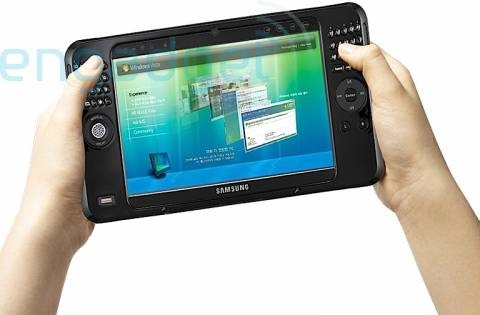 I've said it before and I'll say it again: give me Engadget's inbox and I'll give you, um, well, I'd give you a fresh English pound.  They've hit Send/Receive and found some leaked photos of Samsung's replacement for the dishy Q1 UMPC, uninspiringly named the Q2.  At first it looks like it has a bigger screen, but actually it's still 7-inches (although the resolution is a much bigger 1024x600 WSVGA) which means they've slimmed down the casing.  It was never too chunky to begin with, so that can only be a good thing.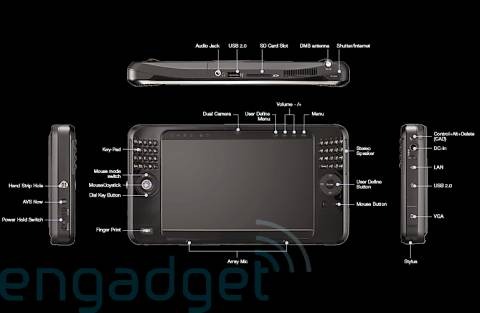 Other innards include a yet-to-be-announced (or decided) Intel mobile processor, 1gb RAM, 60gb hard-drive and Vista Home Premium.  The Q2 also takes a leaf out of ASUS' R2H's book, with a front-mounted VGA camera for video conferencing, partnered up with a rear-mounted 1.3-megapixel camera for surreptitiously taking photos of ladies.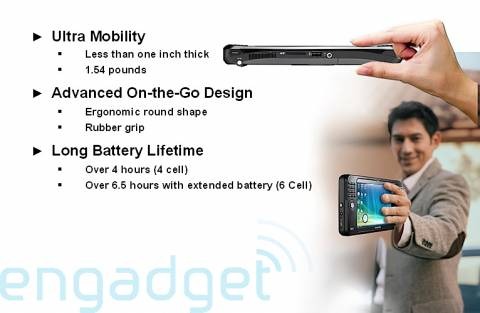 Multiple wireless options are the icing on the cake (or is that the fingerprint reader?): Bluetooth 2.0, WiFi in b and g flavours, HSDPA and the elusive WiBro.  Text entry complaints will hopefully be alleviated somewhat; while Samsung didn't add to the sub-1-inch thickness with a slide-out keyboard, there's a split-thumbboard a la the PepperPad.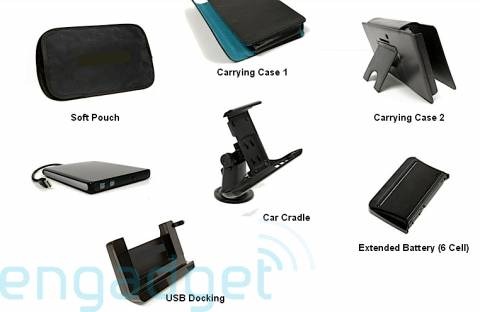 If the PowerPoint slides are to be believed we can expect 4+hrs normal battery life or 6.5+ with the extended battery; not bad when in standard form it weighs just 1.54 pounds.  I'm hoping they can bring this in at a reasonable price – the expense (together with the lack of keyboard) was one of the primary concerns aimed by mainstream reviewers at the UMPC concept.
Samsung Q2 UMPC revealed! [Engadget]