Samsung Mobile Display Shows Off Flexible 3D OLED Concept at FPD International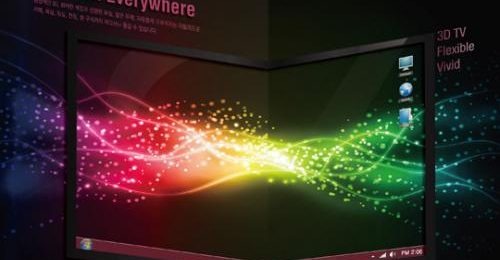 When it comes to AMOLED and Super AMOLED, the display technology is synonymous with Samsung. But Samsung doesn't want to just focus on the here-and-now. They've already shown off what a 4.5-inch flexible AMOLED would look like, so why wouldn't the company show off a concept design of what it would look like to see that technology on a bigger screen? That's exactly what they did at this year's FPD International.
Samsung is starting to show that, here in the near future, one market they will be focusing on is going to be the foldable and flexible. Especially when it comes to consumer electronics. They took some time out of their busy schedule to showcase what they believe the next stage of home entertainment will look like. Their idea, is that you should be able to enjoy your 3D entertainment wherever you are in the living room, thanks to your TV being folded in a particular way.
Samsung is also going to push for their future-tech 3DTVs to range in sizes, so you don't just have to enjoy it in your living room. We don't see this happening in the next year or so, but we do see Samsung having a lot of cool things to show off in the next few years. We can certainly hope we've got some foldable, flexible TVs to look forward to in the future.
[via OLED-Display; thanks, Erik!]