Samsung Helix Reviewed - Overpriced!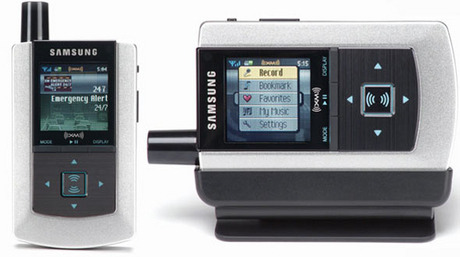 Priced at $400 for the equipment and still pa a monthly service fee of $12.95 – are they for real? The Samsung Helix offers a gigabyte of space for storing compressed audio files as well as your own MP3 and WMA tunes; which totals to about 50 hours of recordings.
WHO WANTS THIS: People who used to love their iPods but are now bored with them.

WHY: The Helix constantly exposes you to new music in every genre imaginable.

WHAT'S COOL: Not only does it bestow you with portable XM radio, but you can save songs and mix them with your own music. It's easy to connect to your home system, too.

WHAT'S LAME: That finicky XM tuner konks out way too often, even if you live in a major city. Yeah, the sound quality is sub-par, but most 'Pod people never cared in the first place.

FINAL MARK: B. Great idea for a product, though it could use more memory and some extra polish. Serious music freaks may want to wait for version 2.0.
Review: Samsung Helix serves up XM Radio and your own music in one overpriced package [blog.scifi.com/tech]