Samsung Gear S3 hands-on: Samsung Pay, LTE, rugged smartwatch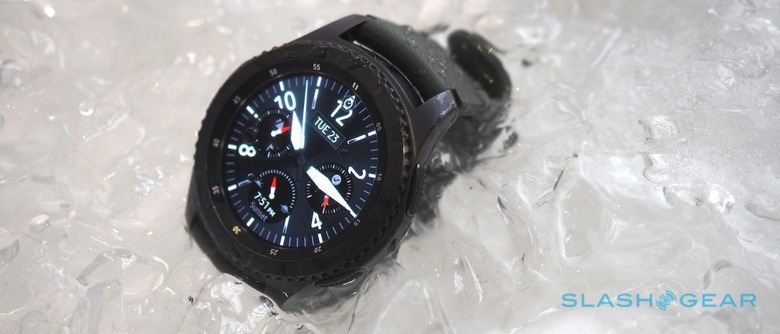 If you've got a Galaxy Note 7 in your pocket then the perfect accompaniment is a Samsung Gear S3 on your wrist, at least that's the argument the smartphone behemoth is making ahead of the Apple Watch 2. Launched at IFA 2016 today, the Gear S3 builds on Samsung's earlier Tizen wearables with a more distinctive and tougher design, the option of integrated LTE connectivity, and the convenience of Samsung Pay to leave your purse or wallet (and, for that matter, your Galaxy phone) at home.
Aesthetically there are two styles, one more classic, the other more rugged, but both use a regular 22mm strap. Samsung will offer a range of rubber and leather straps, but you'll be able to fit any third-party alternative you prefer. On the wrist, at 46 x 49 x 12.9 mm and 57-62 grams, it's definitely on the large side – as is, Samsung points out, the fashion in watches in general these days – though not uncomfortably so.
Still, I expect those with smaller wrists may want to stick with the more compact Gear S2, which Samsung intends, along with the Fit2, to keep on sale alongside this new model.
Like the S2 before it, the Gear S3 relies on a combination of touch, buttons, and a clever rotating bezel for navigation of its Tizen OS. I'm still a big fan of Samsung's bezel – I prefer it, frankly, to Apple's often more fiddly "digital crown" on the Apple Watch – and it's just as tactile and usable on the Gear S3.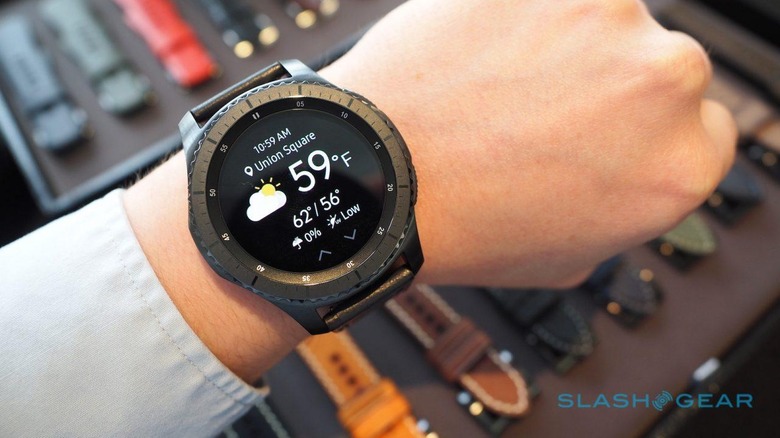 Samsung has made the dial more consistent this time around, too. Rotating it clockwise is the equivalent of a swipe right, to accept an incoming call, dismiss an alarm or timer, or dismiss the Find My Device notification. Rotating it anti-clockwise, or swiping left, meanwhile, rejects a call or snoozes a notification.
The display is a 1.3-inch 360 x 360 circular Super AMOLED, 0.1-inches larger than that on the Gear S2, and its sensitivity has been improved so that you can use it while wearing gloves. It's just as bright and colorful as the older smartwatch is, but Samsung makes better use of its 16m colors: whereas the always-on display on the Gear S2 – which shows a clock face when the watch isn't in use – supported just eight colors, the Gear S3 has the full 16m to play with.
Samsung has two versions of the Gear S3, which vary by their style and their connectivity. The Gear S3 Classic has Bluetooth and WiFi only, while the Gear S3 Frontier throws in LTE and has a more rugged, sports watch design. Both have a broad degree of standalone usability, away from your smartphone, though obviously the Frontier with its 4G connection has an edge there.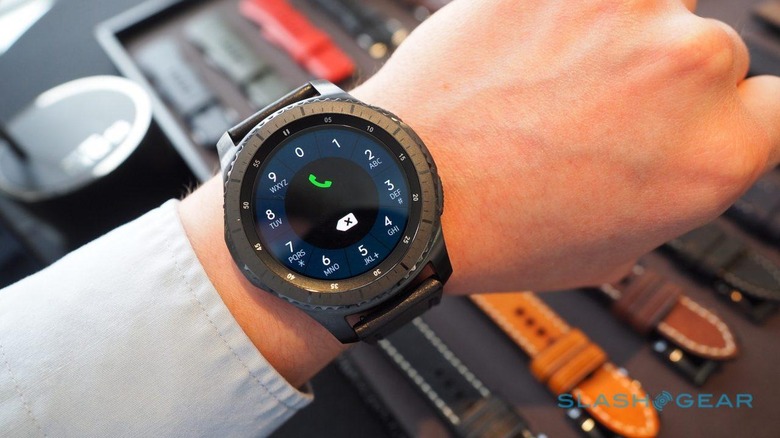 Both have a built-in speaker and microphone for voice calls, and the S3 Frontier supports HD calling on compatible networks. There's also an altimeter/barometer and GPS, and the Gear S3 can even figure out weather warnings if it's not connected to data.
IP68 water and dust resistance is included, meaning the Gear S3 can handle up to 30 minutes at up to 10 feet underwater, in addition to extremes of temperature, vibration, and shock. Indeed, Samsung says it can be used at up to 15,000 feet, should you need to make a hands-free call while skydiving. The touchscreen is covered with a sheet of new Corning Gorilla Glass SR+, which promises to be both impact and scratch resistant.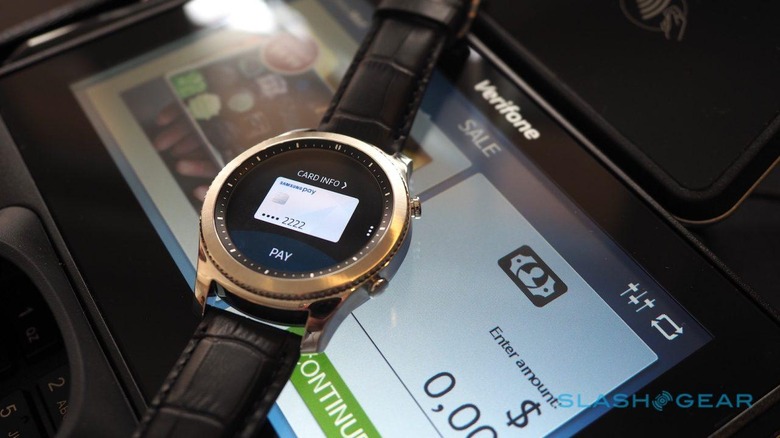 Although it wasn't first to the market with a digital wallet system, Samsung Pay does have an edge with its MST (Magnetic Secure Transmission) system. Like Android Pay and Apple Pay, you can use Samsung's system with NFC-enabled registers, but it can also mimic an old-school swiped card so as to work with the vast majority of terminals out there.
Indeed, Samsung Pay on the S3 promises to be even more convenient than it is on a Galaxy smartphone. Press and hold the back key – the upper button – on the side of the watch, and you get a carousel of all the credit and debit cards registered. The first time, you have to enter your S3's PIN; after that, you don't need to re-enter it unless you take the watch off your wrist.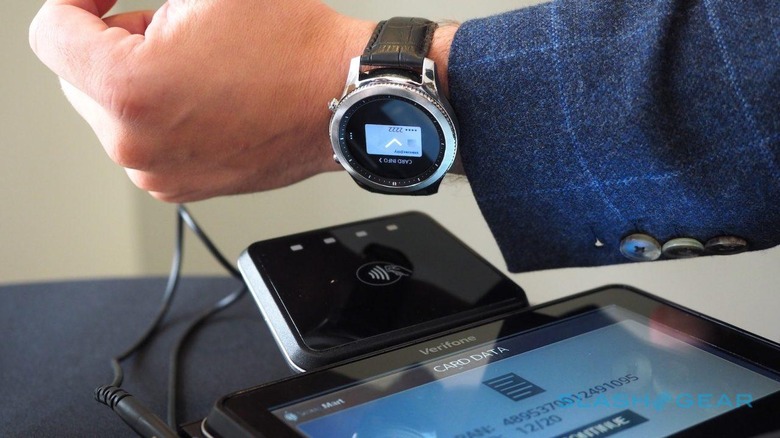 Tap the card of choice, hold it either near the wireless pad on the terminal – to use NFC – or the magnetic swipe – to use MST – and after a moment the payment is made. From the watch's screen you can summon the last four digits of the card, should it be required by a cashier for authentication purposes, and a digital signature.
Initially, Samsung Pay on the Gear S3 will be treated separately from any card you've registered on a Galaxy phone: even if you've added your credit card on your Note 7 already, you'll have to go through the enrollment process again for your smartwatch. Samsung says it's looking at changing that.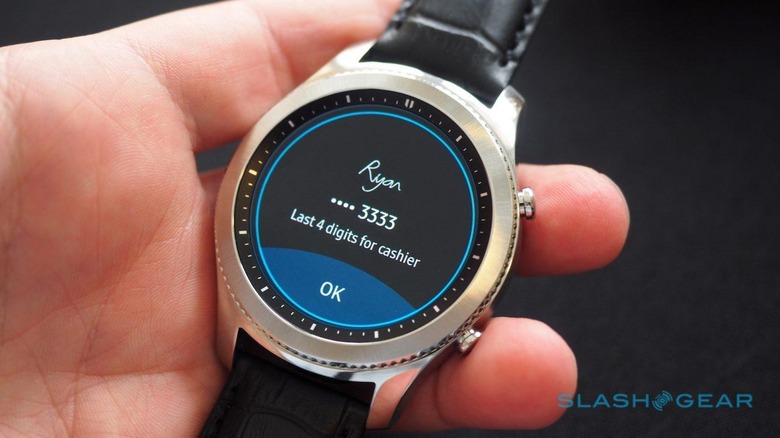 A single card can be registered with multiple devices, and to multiple people: a couple could share a single credit card, for instance, or you could give your kids access and rely on notifications to see if they're spending money in something other than an emergency.
I'll admit, I had my doubts when Samsung opted for Tizen over Android Wear. There are now more than 10,000 apps in Samsung's store for the Gear series, and the Gear S3 arrives with a few new flagship titles in tow.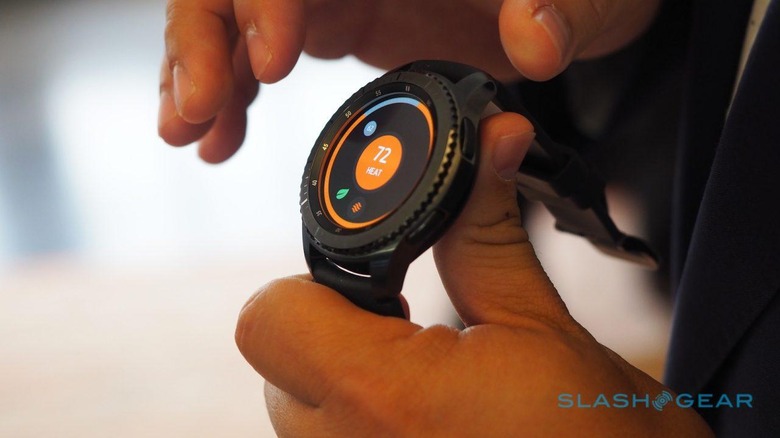 An update to the Uber app – which will be received by other Tizen Gear watches too – adds Uber Pool support, while there's also a Nest app that allows control over heating and cooling across multiple thermostats in multiple properties. BMW is releasing an app to remotely control select cars from its line-up, while home security firm ADT has a "panic button" app that can send out a call for help to those who subscribe to the company's services.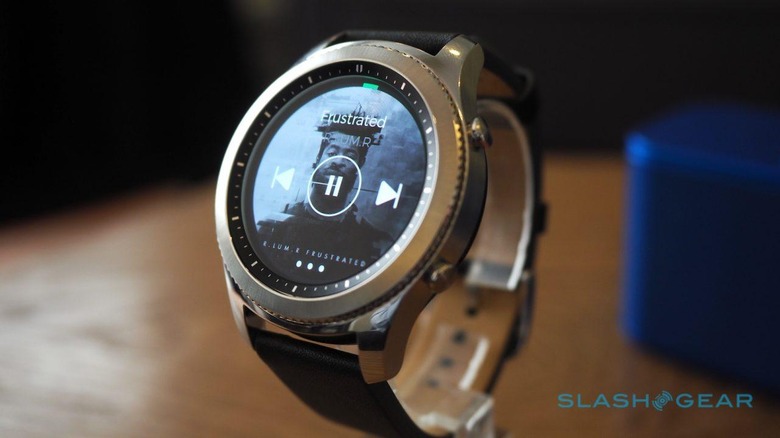 Spotify now supports streaming directly to the Gear S3 over WiFi or LTE (depending on which version of the watch you have), rather than requiring your phone to act as intermediary.
You can access your Spotify playlists and stream over Bluetooth to headphones or speakers, or play out of the S3's own speaker, though Samsung tells me that rights management questions mean offline song sync isn't supported yet.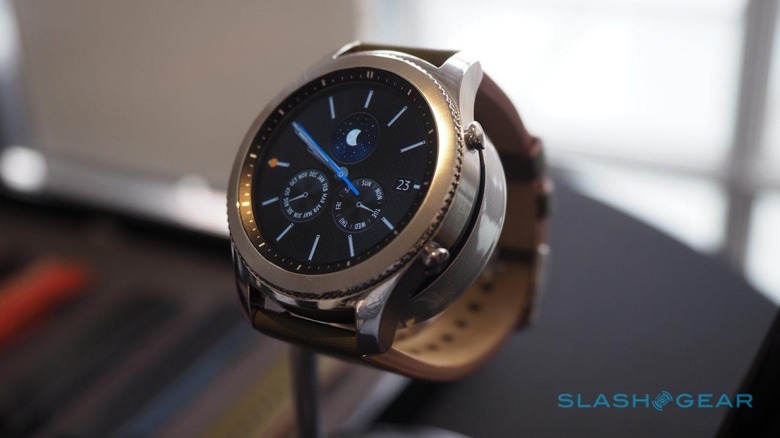 If you do want standalone music without a data connection of any sort, the Gear S3 has 4GB of internal memory for that. It shares space with a 380 mAh battery – significanrtly larger than the 300 mAh in the Gear S2 – which should be good for 3-4 days of runtime.
A low-power, watch-only mode should be able to show the time for a full day even on just 5-percent of battery remaining. Recharging is done wirelessly, and the S3 is backward-compatible with the charger from the S2.
As for health and fitness, that's getting a social upgrade with a friends leaderboard and the ability to compete with contacts on things like step challenges.
Overall, it's certainly a more ambitious vision for the role of the wearable than some rivals are embracing, but Samsung claims the market research shows that customers feel the same way.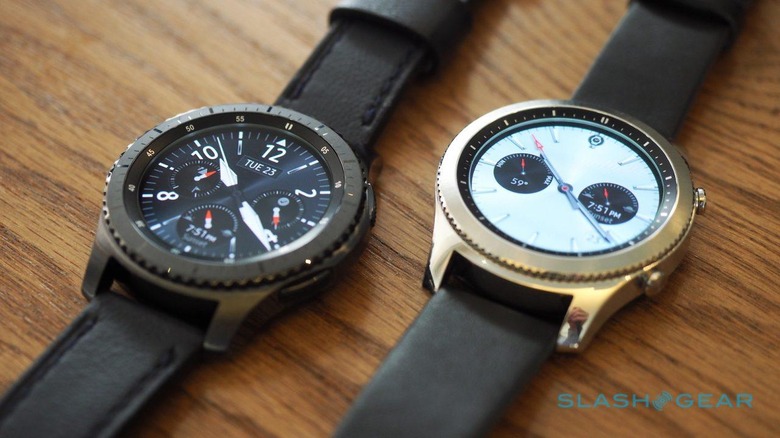 While activity tracking and simply telling the time are still the most common uses for a smartwatch, there's a sizable percentage of people who also say they want to make phone calls, navigate, and control their smart home all from their wrist.
Throw in Samsung's own research that puts IP68 ruggedization, standalone connectivity, and mobile payment support at the top of the list, and the argument for the Gear S3 becomes even clearer. We'll see just how well it ticks all those boxes on the wish-list when we have a chance to try it out in the real world.
Sales kick off "later this year" with AT&T, Verizon, and T-Mobile all confirmed to offer the LTE-equipped Gear S3 Frontier. No word on pricing yet.