Samsung Galaxy Tab Teardown: Big Battery & Tough Screen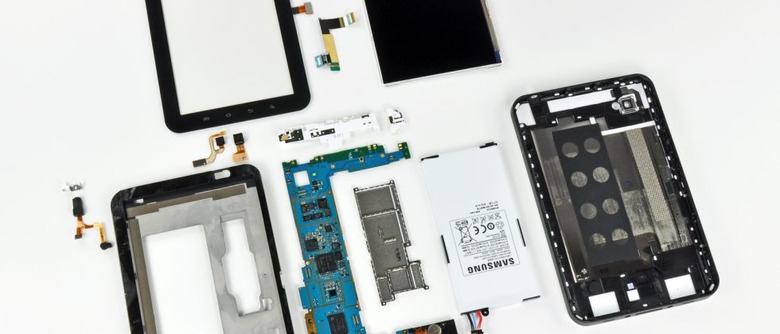 We've been waiting to see the Galaxy Tab torn down fully for some time now, having had our appetites whetted a few weeks back, and iFixt has done the honors. They found the Android slate's Gorilla Glass fascia took a fair amount of heat to remove, but otherwise all of the components are accessible without  soldering and the huge battery is user-replaceable.
It's not quite home repair friendly, however, requiring a few semi-specialists tools that the average toolkit won't have. Still, once you're inside the points where replacement is likely to be necessary – like the headphone socket – simply slot out.
This particular Tab looks to be the European version – there's no carrier branding to be seen – which means its Infineon PM9801 modem (using the X-GOLD 616 HSDPA/HSUPA/EDGE modem) is voice enabled. We'll have to wait and see what's inside the US versions to know whether their modems might be voice-enabled by enterprising modders.