Samsung Galaxy Tab 7.0 Plus on Amazon now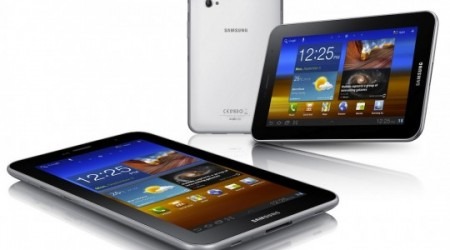 We may receive a commission on purchases made from links.
The seven-inch display-having Samsung Galaxy Tab with a "Plus" at the end of it is now available for pre-order on Amazon. This recently revealed device has not had its shipping date revealed, but you'll be able to pre-order the device from the big A right this very moment. This appears to be the first place in the world that future users will be able to order the device for ownership, with the Galaxy Tab 10.1-inch iteration having been out on the market in several different versions now for several months.
This device will be $399 for the 16GB model and $499 for the 32GB model right out of the gate, both of the devices having the same specifications other than the internal storage difference. This tablet has a 7-inch display with a relatively moderate 1024 x 600 pixel resolution, all of this running on a lovely 1.2GHz dual-core processor. This device will be released with Android 3.2 Honeycomb and has two cameras, one 2 megapixel camera on the front and one 3 megapixel camera on the back. This device is thus far only going to be available as a Wi-fi unit — though a T-Mobile 4G HSPA+ version is said to be around the corner.
We recently saw this device mistakenly listed by J&R for pre-order for the same prices as are listed above. This device was announced back on September 30th, 2011 and is set to replace the original Samsung Galaxy Tab which was one of the very first Android "tablet" sized devices on the market when it was released. This Galaxy Tab Plus is set to get a gradual global roll-out that includes Southeast and Southwest Asia, US, Europe, CIS, Latin America, Middle East, Africa, Japan and China. Exciting!