Samsung Galaxy Tab 10.1 Hands-On At Google I/O 2011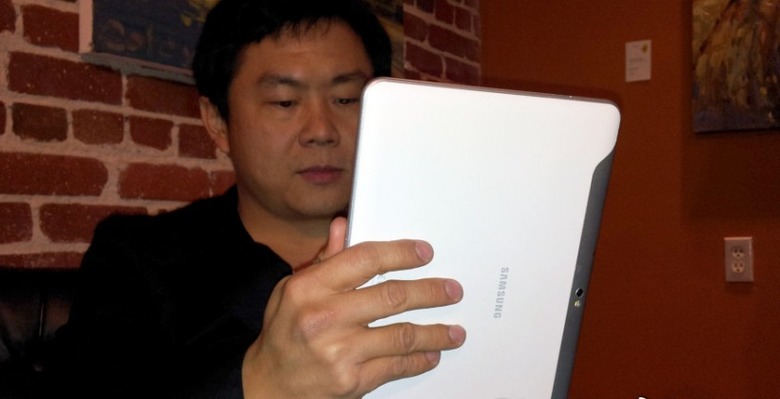 Monday the 9th of May 2011 and Google I/O has started with an early gift to us all! It's the Samsung Galaxy Tab 10.1, a device we got a very early hands-on with at CTIA 2011. When we were allowed to take that particular hands-on trip with the tablet (and its slightly smaller sibling) the device wasn't yet a working unit. It was just sitting pretty and empty with a separate tablet device made for showing off Samsung's new TouchWiz UX, a mobile operating system set to come out next to TouchWiz 4.0 as a tablet-specific version of Samsung's signature overlay for Android 3.0 Honeycomb. Today we get to see a white version of the 10.1 Galaxy tablet with fully functional guts!
It's a real treat to have a look at an Android tablet that trumps even the iPad 2 for thinness at 8.6 millimeters thin weighing in at just 595 grams and feeling like it could float away at any moment. This device is set to be supporting HSPA+ network speeds, sits pretty with Bluetooth, Wifi 802.11 a/b/g/n, and is set up real nice with a 1Ghz dual-core processor for all your super fantastical tablet rock and roll needs. Such a lovely device hath never been seen to date!
[vms b9526cd0923353a34a7a]
NOTE this device is currently still running a stock version of Android 3.0 Honeycomb, but will be launching with the TouchWiz UX we saw at CTIA 2011.
We've got a bit of a gallery of high-res photos of this lovely lady for you below plus a hands-on video for your full enjoyment. Take not that we got Steven Spielberg to direct this video, we spared no expense in filming it. You wanted the best, you got the best, straight from SlashGear into your homes and eyeballs. Also stay tuned as we get more and more bigtime fantastical news, hands-on, and all manner of exciting tidbits this week as we explore Google I/O with a full team both here on SlashGear and over on our sister site Android Community.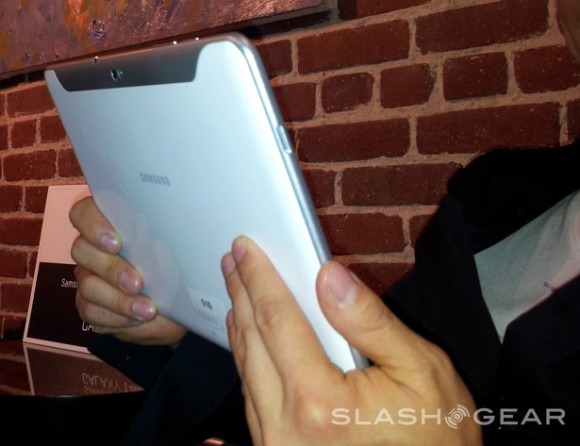 You can see ALL of the Google I/O action here on SlashGear via our portal: [I/O 2011!]