Samsung Galaxy S III protective cases arrive in UK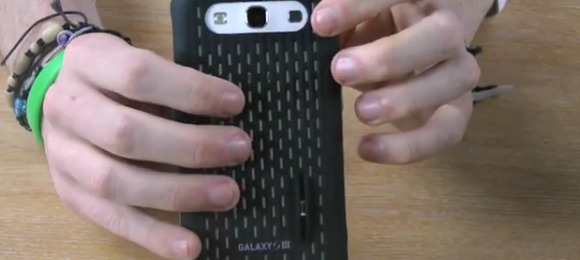 It appears that though there might be a bit of a delay with the actual smartphone itself in some cases, stores in the UK, MobileFun in particular, have recieved their official (and unofficial) case shipments for the Samsung Galaxy S III. The folks at MobileFun have shown off their wares in a set of new press photos (for the official bunch) never before seen until now as well as in a set of lovely hands-on videos. These videos show some of the more inventive cases created by third parties made specifically for the Galaxy S III in an array of odd shapes and colors. Be sure to check out our Samsung Galaxy S III full review as well if you haven't already done so.
First take note that the official images you see above and below originate from Samsung but have been let loose by MobileFun where you can also buy them now. There are two Genuine Flip Covers, one in Pebble Blue, the other in Marble White, both of them attaching as a complete replacement for the back battery cover and flipping over the front for full protection from harm.
Then there's the Official Slim Case in White or Blue, both of them coming in twin packs – that's two incase you loose one, both also just for the Galaxy S III. These cases are "amazingly thin" as MobileFun say, created with a plastic injection process made for both thinness and fabulous strength for protection. As for the unofficial cases, you're in for a real treat. Starting with the Samsung Galaxy S III TPU case in clear:
Moving on then to the same sort of case, TPU, but this time in a fancy bubblegum-like pink:
Next there's the Flexishield slim non-official case. This is basically the most non-exciting of the whole bunch, but is still thin and quite protective, coming in several lovely colors:
Finally, as a bit of a bonus, here's another official case from Samsung. This genuine Samsung Mesh Vent case is easily going to get you the most looks in the bunch, giving you both the ability to see the color of your original Galaxy S III and to have a great grippable surface for the device as well. Your phone stays cool, so says MobileFun, and your hand does too.
All of these cases are either available at MobileFun or will be very soon – check em out!